---
Buy tickets
Ticket Type
Price
Fee
Quantity
---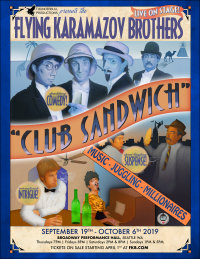 Flying Karamazov Brothers, "Club Sandwich"
The Greatest Live-Action Comedy Thriller of All Time

Broadway Performance Hall, Seattle WA
1625 Broadway, Seattle, WA 98122

Watch the Flying Karamazov Brothers in amazing, live-on-stage technicolor, as they portray three happy-go-lucky juggling millionaires and their long-suffering butler. Follow them from New York's glitzy Park Avenue to the desert vastness of Cairo as they search for the ancient self-juggling Clubs of the Pharaohs, pursued by a fez-toting fat man, a down-on-his-luck gumshoe and a beautiful bearded lady. Feel your heart soar to new heights in a gritty, no-holds-barred love rectangle. This is comedy to die for! This is mystery you won't want to miss! This is 'Club Sandwich'!

Lobby opens 1 hour prior to show time, Theatre opens 30 minutes prior to show time. 
The show runs 90 minutes with a 15 minute intermission. Parts of the show are improvisational so times can be variable. 
Visit fkb.com for more information or contact event producer: 
Daniel Milholland - 360-385-0519 - info@thunderbullproductions.com