---
Buy tickets
Ticket Type
Price
Fee
Quantity
---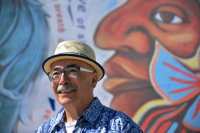 The Cultural Joy of Crossed Borders: An Evening with Poet Laureate Juan Felipe Herrera

Juan is the first ever Mexican-American to hold the position of Poet Laureate of the United States of America (2015-2017).
He grew up in California as the son to migrant farmers, which he has commented has strongly shaped much of his work. At this special event, Juan will read a piece of his poetry and discuss the "cultural joy of crossed borders", a phrase he used to celebrate people who are of dual cultures and nations. He will reflect on how his Chicano identity has influenced his work and what it means to be an individual of many nations.
Following the conversation, guests are invited to a sparkling summer reception in the garden.
Juan is an Emeritus Professor of Creative Writing at UC Riverside, a UCLA alumnus and a fellowship recipient from UC Berkeley.
Tickets include entry, drinks and canapés.