---
Buy tickets
Ticket Type
Price
Fee
Quantity
---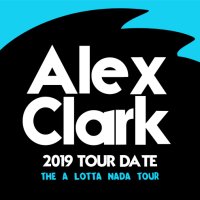 PLEASE NOTE: This show was originally scheduled for August 17th, 2019. It is now on March 7th.  If you currently hold tickets for the previous date, your tickets will still be valid for the new date. You should receive an email with more information. If you have any questions, please contact tour@itsalexclark.com
Alex Clark is a seasoned comedian, YouTuber, and animator most known for his self-titled animated YouTube channel "It's Alex Clark" where he has amassed over 4 million subscribers. 
This performance is a one night only event that tells the story of how Alex went from Subscriber 1 all the way to living the dream, 4 million subscribers deep. He's a 4 time People's Choice Award winner, has appeared on America's Got Talent, and The Chicago Tribune said "his viral videos are funny". From the screen to the stage: Watch anywhere. Laugh Everywhere.

DOORS OPEN 6:30PM
VIP ENTRY 6:30-6:45
GA ENTRY 6:45-7:00

FAQ:
WHERE WILL IT BE?
MTH Theatre - 2450 Grand Blvd #301, Kansas City, MO 64108

HOW LONG IS THE SHOW?
The show itself is about 1 hour and 10 minutes, and the VIP meet-and-greet will last for about 45 minutes after the show.

WHAT DO VIP TIX GET YOU?
Early entry to the show so you can pick your seat first, access to the post-show Q&A,  and a meet & greet with Alex after the show.
WHAT DO GENERAL ADMISSION TIX GET YOU?
General admission entrance to the show.
VIP IS SOLD OUT, CAN I STILL MEET ALEX?
Alex will do his best to meet with absolutely every single person who would like to meet him.  A VIP ticket guarantees that you will meet with Alex. If there is still time after the VIP line is finished Alex will meet with all others as well.                           

ARE THERE ANY AGE RESTRICTIONS?
This is an all ages event.

CAN WE TAPE THE SHOW/ TAKE A PICTURE!?
Please DO NOT film or photograph the show or be on your phone for the duration of the performance. 
*The best way to guarantee a picture with Alex is to sign up for a VIP package. He'll be meeting and taking photos with everyone that purchases a VIP ticket.
PARKING INSTRUCTIONS: 

TERMS & CONDITIONS: All sales are final. Returns/refunds/exchanges will not be issued.