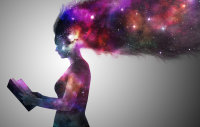 "We have attended them for years now. They are worth every penny spent on them and every second allocated." Save RE Facebook Comment

"Revelation!" has been designed to support your Year 12 students and covers topics specified by ALL ENGLISH EXAMINATION BOARDS for AS Level / A Level Year 1 Study in Religious Studies, but also relevant for mixed groups of Year 12 and Year 13 students and for those towards CIE PreU and IB Diploma options.
No prior knowledge of these topics will be assumed… this is NOT a revision event, but aims to enthuse and extend your students, helping them to develop a love and holistic understanding of the subject… full student notes will be provided and generous teaching resources will be provided for teachers to download. 

Sessions include:

Revelation!

Our first session will consider revelation and particularly Religious Experience as a way that people know about God. Considering both the difficulty of defining Religious Experience, whether and how it can be used as warrant for faith or even an argument for God's existence, this session will explore the work of James, Otto, Swinburne and Franks Davis, Stace and Alston. This session will conclude with a group discussion.
Is God Necessary?

After break, we will explore reason as a way to God. Comparing the Cosmological Argument and the Ontological Argument, we will consider both the strengths and weaknesses of each and what sort of a God they point towards. Finally, the session will ask how we can hope to understand, let alone describe such a God. This session will conclude with an online quiz.
The Moral Law

Turning to Ethics after lunch, this session will consider whether there are any moral absolutes and, if so, what they are and where they come from. Perspectives from Divine Command ethics, Natural Law, Situation Ethics and Kantian Ethics will be opened up and evaluated. This session will conclude with an essay-planning activity.
This house believes injustice in this life cannot be made up for through the afterlife!

The final session of the day lays the groundwork for our lively debate. Different perspectives on the motion, including arguments from Augustine, Irenaeus, Aquinas, Kant and Hick will be explained. Students will then be invited to contribute their reasoned arguments in our lively debate.
''The day was riveting, the lectures were a joy, and a real challenge to my philosophical assumptions." Student, Cranleigh School
How To Buy Your Tickets
Student tickets cost just £22 when purchased online

FREE 32 page printed notes booklet, packed with information and activities.
FREE accompanying teacher tickets (with refreshments & teaching resources)
FREE Candle Friends for 12 months; including FREE resources & exclusive CPD
FREE teacher study day CPD place (worth £150) with 5+ student tickets*
Early-Booking Bonus
If you complete a group-booking for 5+ students before Christmas, you receive a FREE webinar pass for our new Christianity series (worth £120)*

With Candle you get:

Up-to-date scholarly content made engaging and tailored to the real needs of A Level students.
Sessions and resources designed by practicing teachers with a record of engaging students of all abilities.
Easy, secure online bookings with no fees to pay; just print off e-tickets.
A real teacher to speak to on the telephone or e-mail and social media support on twitter @PuzzleVardy & facebook @CandleConfs

e-mail: info@candleconferences.com
Tel: 0208 133 2241

*Our full T&Cs can be read here.



"My thanks to Peter for the most amazing talk he gave to my 6th Form. Every single one of them raved about it afterwards." 
Elizabeth McManus, Ewell Castle School