---
Buy tickets / Join the guestlist
---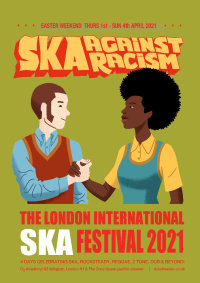 Due to the continuing impact of Covid-19 we are sorry to announce that The London International Ska Festival 2020 is having to be moved to next Easter weekend 2021 - 1st to 4th April 2021.

The festival line up is already set to include; Big Youth, The Pioneers, Dennis Alcapone, Freddie Notes, Dave Barker (Dave & Ansel Collins), Susan Cadogan, Christopher Ellis paying tribute to his father - Alton Ellis, Roddy Radiation from The Specials, Arthur Kay & The Originals, our valve sound system special with Phil Bush, our world famous Thames cruise, our tribute to Sonia Pottinger - as part of our all female Easter Sunday Womans Day, Do the Dog skazine all-dayer ft. The Kubricks, Zen Baseballbat, Cartoon Violence, & The Downsetters, Subsetters, plus DJs Grace of Spades, Naoko TheRock, Texas Ranger, Tiny T, Tighten Up crew, Time Tunnel club night, Paddy M, Heidi Ellis and many more!

All 2020 tickets remain valid.

Full rescheduled line up will be announced shortly.