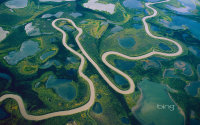 Join Neil Zeller on a Northern Canada photography tour, exploring the lands, animals, people and culture, all under the Midnight sun. Assembling in Whitehorse by June 17th, we'll fly to Dawson City to spend the next 8 days exploring and photographing gold mines, museums, domes, pingos, tundra, wildlife, rivers, deltas, oceans, history, and Northern culture!

The big catch is, we'll flip our days over and spend our tour under the literal Midnight Sun. We'll work to turn our clocks over as soon as we arrive in Dawson City, to spend the tour in a perpetual golden hour! 
Our Dawson adventure with our local guides is to include Parks Canada walking tour, Gold Mines, Midnight Dome, and King Solomon Dome, Top of the World Highway, Diamond Tooth Gerties, Gambling, Golf (optional), Sour Toes, Northern Personalities and so much scenery you won't know where to point your camera! Suppers at 5am, bed by 6am, and up and at'em again at 3pm. 
Once we have our fill of adventure in and around Dawson for a few days, we'll head truly North, up the Dempster Highway, where we will slow down and really absorb the lands, animals, and cultures of the North. From Dawson we'll drive the world famous Dempster Highway, exploring Tombstone Park and beyond, arriving in Eagle Plains, just a few miles south of the Arctic Circle, ending the first part of this tour. 
We'll wake up at 7pm in Eagle Plains on June 21st, on Summer Solstice. We will be transferred over to our Northern guides and spend the transition to summer at the Arctic Circle. 
From the Arctic Circle, we'll arrive at the ferry for the first crossing of the day, over the Peel River. Soon after we'll cross the mighty Mackenzie River, and on to Inuvik. We'll be back to Inuvik later in the tour, but our accommodation awaits at the Tepee Camp, after a riverboat transfer. We'll settle in and get a good 'days' rest. 
Wake up to breakfast and a night of exploring the TIPI Village, visiting a traditional Ice House, learning about Gwich'in and Inuvialuit culture, playing games and taking part in northern games, Enjoy Kayaking or Canoeing, fishing, Delta Boat rides and hiking the trails. Lunch is a traditional meal with the local host of foods from the land. After Lunch, you'll enjoy setting the fishnet then learning how to prepare the fish in the smokehouse and for making dinner. After this fulfilling night, we'll spend another day's sleep at the Tepee Camp. 
We'll wake in the evening, eat a hearty breakfast and board the riverboat to head up the Mackenzie. We'll visit Sandy Hills for hiking and exploring the tundra, then continue further North to a traditional whaling camp for dinner and to learn how the Inuivuit survived on the land. From the whaling camp, we will boat onto the Arctic Ocean and to Tuktoyuktuk where we'll check into the B&B for a 5pm bedtime. 
A 1am wake-up call will start our 'Tuk Day' where we'll explore the village, traditions and will spend some time on the upper parts of the new 'highway' above the treeline. After our time in Tuktoyuktuk, we'll board a charter flight to Inuvik, flying over the Mackenzie River Delta. We'll arrive in Inuvik with ample time to explore the town. We'll check into the hotel and enjoy a relaxing last evening together on tour. Wake the following morning and finish the tour. The organized tour purposefully ends at this time to allow participants to possibly continue their adventures in the North, or to head back to South to get back to your regular life. Flights from Inuvik are available connecting back to the south, as well as anywhere in the North!

This tour is meant to immerse you a spectacular place in the world, under the photographic guidance of Neil Zeller, to help you capture the magic you will see around every corner. This is an experiential photography tour meant to further your photography skills no matter where you are in your photographic journey. Neil will help you see the best of this trip, and will hap translate your incredible personal moments into amazing photographs. All while having the adventure of a lifetime! Gear suggestions and advice is available as always, before and during the trip.

The price of this trip is $9,100.00 +gst. Payment plans are available. A $2,000.00 deposit is required to secure your place on this tour. The tour will be maxed out at 6 participants. Registration is for double occupancy. Single supplement is available for an additional $1,000.00 +gst. 
This is a 'travel by vehicle' trip with optional hikes and experiences varying from ambles to scrambles. There will be much time on your feet to make the most of this trip, carrying your own camera gear. If you have questions about the physical nature of this trip, please connect with Neil directly with your questions. 
Included in the trip:
Flight from Whitehorse to Dawson City (June 17, 2020, 3pm)
All accommodations (double occupancy)
Many meals and snacks

Drinking water

Admissions, tours and cultural experiences
Local guides
Boat transportation
Scenic charter flight from Tuktoyuktuk to Inuvik
Airport transfers
Tour wide photography workshop


Not included:
Travel to Whitehorse at the start of the tour
Travel from Inuvik at the end of the tour
Meals not noted in the itinerary

Alcohol, tips, and items of a personal nature
Travel insurance

Itinerary (subject to change based on weather or other uncontrollable circumstances) 
June 17 - Flights to Dawson City, stay up for City and Gold Fields tours, King Solomon Dome for 'not' sunset, Dredge 4, Discovery, Bonanza and Hunker Creeks. Back in town for 1:00am lunch and exploring in town (Forcing yourself to stay up for 5:00am Supper, the off to sleep at 6:00am!)
June 18 - Wake at 3:00pm for Breakfast, then a Parks Canada Walking Tour of Dawson City. In the late evening, we'll tour the Top of the World Highway to the Alaska Border and back (lunch included). Optional golf game (extra $) for those that choose. Back to town for supper at 5:00am and back to bed at 6:00am. 
June 19 - Wake at 3:00pm for town exploring. We'll really get into the culture of Dawson at Diamond Tooth Gerties, see graveyards, shipwrecks and generally enjoy our last 'overnight' in Dawson. 
June 20 - Head North! We'll drive the world famous Dempster Highway starting at 4:00pm, arriving in Eagle Plains near 5:00am. In between, we'll visit Tombstone Territorial Park for exploring, hiking and some of the most incredible landscapes anywhere (lunch and snacks included). We'll continue our journey to Eagle Plains. Check into our hotel at 5:00am for breakfast and sleep. 
June 21 - Wake at 7:00pm. the Arctic Circle awaits. We'll take our time and really absorb the moment when summer comes to the North while standing on the Arctic Circle. Our journey will proceed North into NWT and crossing the Peel and Mackenzie Rivers. We will trade our van for a riverboat and head downstream to the Tepee Camp for the night (day). (Meals included). Sleep at 9:00am. 
June 22-23 - Wake at 7:00pm. A full day (long day, but naps are optional) learning about and enjoying Northern cultures. Hiking, canoeing, fishing, helping set nets, traditional meals and more. (Meals Included) Sleep at 4:00pm.
June 24 - Wake at Midnight. Load back onto the boat to explore the grandeur of the Mackenzie River Delta, with stops along the way at Sandy Hills and a Whaling Camp. Boat out onto the Arctic Ocean (rough maybe) to arrive in Tuktoyuktuk. Check into the B&B, some exploring and bed by 5:00pm 
June 25 - Wake at 1:00am. (Breakfast Included) Tuktoyuktuk touring, new highway exploring, and cultural experiences. (Swim in the Arctic Ocean!?). Scenic charter flight to Inuvik, exploring the Mackenzie River Delta by air on the way. Touring in Inuvik for a few hours before collapsing at a regular time (9:00pm anyone?). 
June 26 - Transfers to the airport to go home or to carry on your journey elsewhere in the North!

Additional/extended travel support for continuing your Northern journey will be provided upon request.

By registering to participate, you assume all liability and risks involved with this event and you acknowledge that you are required to sign a liability release at the beginning of this workshop. This trip is for persons 18 years or older.