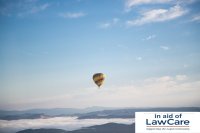 This groundbreaking event is organised by the Wellbeing Work Alliance which is a focal point in relation to all aspects of wellbeing for lawyers. We will be making a donation to our charity partner LawCare for each delegate that attends
___________________________________________________________________________
This very practical conference is chaired by barrister and coach James Pereira QC who is supported by a high level panel of speakers drawn from: private practice, in-house, consultancy and the charitable sector

It will appeal to all those within law firms, barristers chambers and in-house legal and HR departments who "get" both the importance of managing wellbeing in their working environment, and how developing and applying the principles of wellbeing  are not only inextricably linked to profitability and productivity, but also with attracting and retaining the very best people.

Delegates will take away with them an insight into the latest thinking on wellbeing in practice together with the tools they need to drive forward the development and enhancement of their own organisation's wellbeing policies and practices
Topics to be covered include:
The What and Why of Wellbeing for Lawyers
Understanding Anxiety
Why Mental Health Matters For Lawyers
Wellbeing – The in-house Legal Function Perspective
The Mindful Business Charter

Profitability, Productivity and Wellbeing

Making Effective Collaboration and Teamwork Risk Free

Case Study: Wellbeing in Practice
Finding and Maintaining Emotional Wellbeing for Busy, High-Achievers
The Art of Mindfulness for Wellbeing
Where Do We Go From Here? Putting it All into Practice
Speakers
James Pereira QC, Francis Taylor Building, and The Libra Partnership
Elizabeth Rimmer, CEO LawCare
David McCahon, Global Head of Commercial, Innovation and Technology Legal, Barclays
Guy Setford, co-CEO Setfords
Kate Dodd, Pinsent Masons
Nick Bloy, Wellbeing Republic
Lou Campbell, Mindfulness in the Workplace
Helen Reid, Energy & Mindset Coach & Mentor 
Tony Hackett, Anthony Hackett Associates
Kayleigh Leonie, Macfarlanes

About LawCare
LawCare's mission is to provide information and support to anyone in the legal community experiencing mental health and wellbeing problems and works to raise awareness, promote understanding and to improve the culture and practice of law.


The Programme
9.30 Opening Remarks
Chairman: James Pereira QC, Francis Taylor Building, and The Libra Partnership
9.45 Opening Address: The What and Why of Wellbeing for Lawyers
James Pereira QC, Francis Taylor Building, and The Libra Partnership
What's it all about?
Why should we be bothered?
A practitioner's perspective on what it really means for your work and private life
10.20 Why Mental Health Matters For Lawyers
Elizabeth Rimmer, LawCare
What is it about the culture and practice of law that is having an impact on lawyer mental health
Why mental health matters at an individual, employer, wider legal community and societal level
Steps we can take as individuals and organisations to promote mentally healthy legal workplaces
What LawCare does
10.55 Coffee
11.10 Wellbeing – The in-house Legal Function Perspective
David McCahon, Barclays
Benefit from Group-wide Wellbeing Programme and benefits
What should we provide for Lawyers over and above that Programme?
What we have done so far
Working with our panel law firms
What's next
11. 45 The Mindful Business Charter
Kate Dodd, Pinsent Masons and Brook Graham Ltd
Identifying the need for change in lawyer / client relationships
Separating inevitable and unnecessary sources of stress
Turning an idea into reality
Engaging banks and law firms
The future of the MBC
12.20 Wellbeing Masterclass: Making Effective Collaboration and Teamwork Risk Free: The concept of  Interpersonal Psychological Safety
Nick Bloy, Wellbeing Republic
Organisations are consistently striving to identify innovative ways to bolster the engagement, productivity, collaboration and retention of their employees, in order to increase their bottom-line. Typically, organisations opt for financial incentives to maximise performance and collaboration, yet research shows that contingent incentives can, paradoxically, lead to poorer performance and collaboration overall. One of key the reasons for this is that we wrongly assume that human behaviour follows a rational economic model. In reality, we are heavily influenced by our emotions which don't operate in line with standard economic models and are far more irrational, albeit according to Nobel Prize winning research in behavioural economics, predictably so. The reason for this paradox, lies in our evolutionary biology.
So what is it that empowers individuals to truly thrive within an organisation? What enables them to realise their true potential? An area of organisational psychology that is gaining increasing traction is the idea of Psychological Safety. Psychological Safety refers to the cultural environment of an organisation - specifically, to how safe an employee feels about taking inter-personal risks. Essentially, to what extent does an employee fear negative repercussions for making a mistake, raising a concern, suggesting a new idea, asking a question or being their authentic self with colleagues? Two decades of research by Dr Amy Edmondson of Harvard Business School and others, as well as a multi-year project by Google codenamed project Aristotle, identified that psychological safety is the key determinant of what makes a top performing team (ahead of IQ, EQ, technical ability, personality traits and over 100 other metrics).
In this masterclass, delegates will explore the business case for psychological safety (including how fear undermines individual and team performance), how most organisations inadvertently undermine psychological safety in the workplace and the steps an organisation can take to create an environment where teams and individuals can truly thrive.
1.00 Lunch
1.50 Roundtable Discussion: Profitability, Productivity and Wellbeing
2.15 Understanding Anxiety
Lou Campbell, Mindfulness in the Workplace
Anxiety disorders are the fastest growing mental health issue in the UK, and indeed across the western world. This session focuses on:
Understanding anxiety
Anxiety on the rise
Identifying anxiety disorders
Supporting an anxious colleague
Signposting and referring 
2.45 Case Study: Wellbeing in Practice – Happy Lawyers Mean Happy Clients – How We Do It
Guy Setford, Setfords
Freedom
Flexibility
Work life balance
Equality
Support
Client Service
3.20 Tea
3.35 Finding and Maintaining Emotional Wellbeing for Busy, High-Achievers
Helen Reid, Energy & Mindset Coach & Mentor 
Why the personality type of a lawyer can be more susceptible to mental and emotional wellbeing struggles.
The importance of understanding the connection between the mind and our emotions.
Creating a different kind of mental health legacy for the next generation.
Tools and practices to help maintain a state of balance and increased productivity levels.
4.10 Workshop: The Art of Mindfulness for Wellbeing
Tony Hackett, Anthony Hackett Associates
The NHS recommends five steps for Wellbeing which are: connecting with others, being active, keeping learning, giving to others and being mindful . The first four we should be able to work out for ourselves, however if you're unfamiliar with mindfulness, it requires some fresh learning, different thinking and adoption of new practices and probably represents the biggest return on investment.
The purpose of this workshop is to give you the opportunity to bring mindfulness into your daily routine to improve the quality of your life, health and wellbeing. Something that it's well proven to do.
Introductions and personal objectives
What is Mindfulness?
Thinking about how we think and its consequences. Being in the now.
Cognitive Behavioural Therapy - CBT
Understanding stress
Learning mindfulness mediation
How to switch off, get to sleep and sleep well
4.45 Closing Remarks: Where Do We Go From Here? Putting it All into Practice
James Pereira QC, Francis Taylor Building, and The Libra Partnership
The speakers will be joined by Kayleigh Leonie 

Chairman: James Pereira QC divides his time between a leading practice at the bar and dedicated work as an individual and team coach, with particular focus on the legal profession. He is a trained organisation, relationship and systems coach and certified NLP Master Practitioner. He integrates meditation, yoga, creativity, and other essential practices into his work and private life. James co-writes a regular column, "Loving Legal Life", on professional performance and wellbeing in The Lawyer, and has published in the bar's own journal, Counsel Magazine. He is a co-founder of The Libra Partnership, which provides coaching and training services tailored to the particular needs of solicitors, barristers, law firms and chambers, and couples coaching for personal relationships. He has experienced first-hand the benefits of developing essential skills to his own practice, having been nominated as Silk of the Year by the Legal 500 in 2016, 2018 and 2019, and ranked in the Top 10 planning silks nationwide by Planning Magazine in 2019.

Nick Bloy is a former Lawyer and HR Business Partner. Three years ago he founded Wellbeing Republic, a consultancy designed to help people and organisations unleash their true potential. He works as an executive coach and trainer, regularly delivering training to lawyers and other professionals. He brings together the latest thinking in the fields of neuroscience, psychology, physiology, evolutionary biology, biochemistry and many more, to help people understand how to optimise their performance, health and happiness, by harnessing evolutionary biology. Having worked in highly demanding and high-pressure roles in the City of London over a twelve-year period, working 12+ hour days and weekends, he is acutely aware of the impact that negative stress and anxiety can have on cognition, productivity, health and wellbeing - he experienced it himself, first-hand. He uses his personal experiences, together with his knowledge of human performance and his passion for people, to help others unlock their true potential and help them to thrive.

Lou Campbell is Programmes Director at Mindfulness in the Workplace. She is a fully qualified and experienced counselling psychotherapist, stress management specialist, sleep therapist and mindfulness tutor. Lou is a member of the British Association for Counselling and Psychotherapy and the Professional Standards Authority. Lou takes a scientific, evidence-based approach to improving mental and emotional wellbeing, enabling employees to understand how to create the conditions to allow their mental health to flourish. She provides group workshops and confidential one to ones at law firms, financial services companies, management consultancies, corporates, media owners, retailers, charities and government departments. Mindfulness in the Workplace work with a substantial number of leading law firms

Kate Dodd is a Diversity and Inclusion Consultant for Pinsent Masons LLP and Brook Graham Ltd. She advises Pinsent Masons, Brook Graham and their clients across the full range of diversity topics. Kate's interests include developing and embedding mental health and wellbeing strategies and helping businesses learn how to start conversations and reduce stigma. She has been heavily involved in founding and developing the Mindful Business Charter, which is a cross-industry set of principles, aimed at reducing unnecessary sources of stress and increasing wellbeing. The Mindful Business Charter has now been adopted by a number of leading law firms and financial services institutions. Kate is an employment lawyer by background, with 15 years' post-qualification experience specialising in equality, diversity and inclusion. Kate is an experienced advocate and represented her clients in Employment Tribunals across England, Scotland and Wales.

Tony Hackett has been teaching Stress Management, Meditation and Sleep Coaching for many years. He runs corporate Personal Development programmes covering Assertiveness, Self-motivation, Stress Management, Presentation Skills and Personal Effectiveness. He works as a coach, trainer, mindfulness meditation teacher and public speaker.
Kayleigh Leonie has undertaken research, written articles and published best practice guidance on supporting the wellbeing of junior lawyers on behalf of The Law Society. Kayleigh holds regular roundtables for employers to share best practice on supporting wellbeing in the workplace. Kayleigh is a solicitor specialising in employment law and a trustee of LawCare.

David McCahon leads the Global Commercial, Innovation and Technology Legal team in Barclays and leads the Legal Department's work on Wellbeing. Prior to that he held several General Counsel roles within Barclays UK. He originally joined Barclays as Assistant General Counsel in Barclaycard in 2008, and became General Counsel of Barclaycard in July 2010. Previously he was MD and General Counsel of the cards business in Morgan Stanley and spent two years in the banking group of the law firm, CMS Cameron McKenna. He also worked as a Government lawyer at the Office of Fair Trading and the Home Office, and as a lawyer at Which? He qualified as a barrister after getting his law degree from Reading University and a Master of Law degree from Cambridge. He is chair of trustees for a counselling charity in Suffolk, a Governor at Goodenough College in London and on the shadow board of Now Teach

Helen Reid is a leading energy & mindset coach and mentor specialising in helping her clients leave the stress and struggle of modern life behind and step into flow and productivity, no matter how busy they think they are! Helen worked in London as a corporate tax lawyer for 8 years before transitioning into coaching.

Elizabeth Rimmer is CEO of Lawcare. Elizabeth has been managing and developing charities in the mental health sector for over 20 years. She joined LawCare in 2014 from the Institute of Group Analysis, a membership and training organisation for group psychotherapists. Before that she headed up Alzheimer's Disease International, a worldwide federation of Alzheimer Associations. Elizabeth started her working life as a solicitor specialising in clinical negligence, practicing at Leigh Day. LawCare, a registered charity, supports and promotes good mental health and wellbeing throughout the legal community in the UK and Ireland. LawCare provides emotional support, information and works to raise awareness about why mental health matters. www.lawcare.org.uk

Guy Setford is Co-CEO of Setfords Solicitors, an innovative consultant-model law firm which he founded in 2006. Guy believes that happier lawyers mean happier clients and he recognised an opportunity in the legal market place to offer lawyers a way of working that focused on wellbeing as a conduit of success.   The purpose of the business is to deliver a better way of working for lawyers that combines flexibility and freedom in order to support talented lawyers to deliver the best client service. The business has a nationwide presence of over 220 consultant lawyers working across all major areas of law, alongside a 76 strong industry-leading support team. It has won multiple awards for its innovative methods, including an award for wellbeing from Lexis Nexis in 2018.
If you have any questions about this conference please contact us at info@wellbeingworkalliance.com
.