---
Register
Ticket Type
Price
Fee
Quantity
---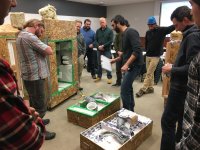 5day COURSE & HANDS-ON WORKSHOP + ACCREDITATION EXAM

High-Performance Construction Training
Teacher: Enrico Bonilauri – Emu Systems
This training is for building professionals who are concerned about implementing measures for moisture control, air sealing, thermal bridging, durability, and healthy air. Students will have an opportunity to ask questions about a wide range of products available on the market in a brand-neutral environment where science reigns and the goal is durability, resiliency, and affordability of construction.
Learn about the most advanced construction standard in the world, how to implement passive principles in your projects, and everything necessary to become a Certified Passive House Tradesperson (CPHT) through the International Passivhaus Institute (PHI). Open to all tradespeople and project team members with working knowledge of construction.

Hear more from our Feb 2018 students - link to YouTube video.