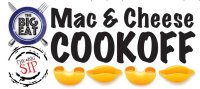 Big Eat Mac n' Cheese Cook-Off
Big Sip Craft Beverage Festival
Presented by the Stepping Stone Canine Rescue & Winston-Salem Jaycees

Get your tickets early, prices increase as tickets are sold.

Starting at $30 for the Mac & Cheese and Beverage Tickets.

Full Prices are:
Mac n Cheese and Beverage Wristbands Early Admission (1pm – 6p) – Limited number available – $45
(Includes samples of Mac n Cheese from all restaurants plus all beverage samples)
Beverage Only Wristbands (3p – 6p) – $30 advance
(ONLY Beverage sampling, does not include Mac and Cheese samples)
$40 at the Door (Beverage Only 3p Admission)
$50 at the Door (Beverage w/ Mac & Cheese Tasting 1p Admission)
Live Music: TBA

Whether you like Beer Festivals, Wine Festivals, or just mac and cheese from our local restaurants; this festival is for you.

Click for Mac & Cheese line up
An all-inclusive event bringing guests to the historic Millennium Center in Downtown Winston-Salem NC. For the price of a ticket, guests can sample craft beers, wines, and spirits plus local restaurants will be offering tastings of their signature Mac and Cheese selections.
Taste Over 150 different beverages from local Breweries, Distilleries, Wineries, plus non-alcoholic beverages

The event. -21 +, ID required. -No re-entry. -No backpacks allowed. -Last call 15 minutes before event ends. -No children, no exceptions. This ticket is a revocable license, which is subject to termination with denial of admission at the discretion of The Big Sip and its partners (collectively referred to as "Hosts"). You will be denied admission or removed from the premises without compensation should the ticket holder act in a disorderly manner or violate the Hosts rules or endanger the safety of other patrons. The Hosts may stop serving the holder beverages without compensation at any point the ticket holder appears severely intoxicated or impaired. The ticket holder voluntarily assumes all risks and dangers incidental to before, during, and after the Event. Ticket holder agrees that the facilities and Hosts are not responsible or liable for any in juries, expense, claims or liability resulting from or directly or indirectly related to the Event. Tickets are non-refundable and the Event will take place rain or shine.