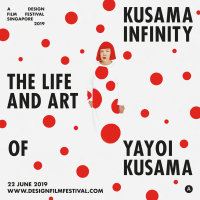 FREQUENTLY ASKED QUESTIONS

What is A Design Film Festival?
A Design Film Festival is a film festival on design and its subcultures. Kusama: Infinity kickstarts the 8th edition of the festival. DFF2019 will be held in the second half of 2019.
How do i collect my tickets?
Ticket collection is simple. Once your order is complete, an order confirmation will be emailed to you that allows you to collect physical tickets during the festival. All you have to do is bring a copy of this email to collect all the tickets that you've booked. Remember, this is a free-seating event, so come down early to get the best seats. We recommend registering at least 15 mins before show time.
How late can I get tickets?
Online ticket sales closes 12 hours before each screening. Any remaining tickets will be available at the door during the festival through cash payment only.
Why is there a booking fee?
The booking fee is calculated at 7% and goes entirely to cover the cost of credit card transaction fees. There are no booking fees if you choose to buy tickets on the screening day.
Do you do exchanges or refunds?
Tickets purchased can be exchanged or cancelled. Exchanges and cancellation requests are accepted up to 48 hours before 22 June 2019. Exchanges are chargeable at $2.50 per ticket and processed within 1 working day from receipt of payment. Cancellations are chargeable at $5.00 per ticket and there can be no partial cancellations of an order. All refunds after deduction of the cancellation fees will be processed within 5 to 10 business days.
What happens when a screening is sold out?
When tickets for a screening is no longer available, they will be listed as Rush Tickets (also known as last-minute tickets). The Rush System functions as a stand-by line that will form 30 minutes before showtime at the venue. Approximately 10 minutes prior to the scheduled showtime, empty seats are counted and will be sold on a first-come, first-served basis to those in line. Rush ticket prices are the same as regular tickets and there is a limit of two tickets per person.
Where will it be held?
It will be held in Singapore at Capitol Theatre on 22 June 2019.
Help! I have more questions.
Not to worry, you can reach us at +65 6440 7330 on Mondays to Fridays, 9.30am to 6.30pm, or email us at info@designfilmfestival.com. You can also find us on Instagram, Facebook and Twitter.

CONTACT
A Design Film Festival
18 Chiku Road Singapore 429430
T: (65) 6440 7330
E: info@designfilmfestival.com
W: www.designfilmfestival.com

SOCIAL MEDIA
#DFFSG2019
@madebyanonymous