---
Buy tickets
Ticket Type
Price
Fee
Quantity
---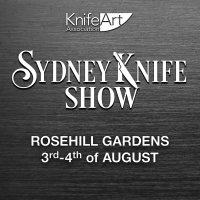 Join us for a 2 day celebration of all things sharp!

The Sydney Knife Show features a diverse array of knives, tools and supplies from manufacturers, knifemakers, collectors, dealers and associated industries all under one roof. The show has been a great success since 2014, gaining popularity and attracting more and more visitors and exhibitors each year. If you are into knives and other edged tools, you owe it to yourself to come along to Australia's biggest knifeshow.

In addition to being able to purchase a hand-made knife from Australia's leading craftsmen, join us for two full days of knife and bladesmithing by the Artist Blacksmith Association and demonstrations from the Sydney School of Japanese Swordsmanship and the Vanguard Re-Enactment Guild. With a focus on the education and entertainment of attendees, the weekend highlights the quality and creativity of Australian custom knifemakers, local and international production knives as well as manufacturing equipment and accessories.

Children under the age of 16 receive free entry when accompanied by a full paying adult.
The show is open from 9:00am until 4pm both Saturday and Sunday. Tickets are valid for both days.