---
Buy tickets
Ticket Type
Price
Fee
Quantity
---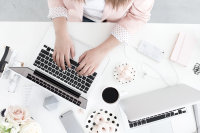 Get your ticket to the very first Productive Blogging LIVE! 
**only 20 spots, so get yours quick before they sell out**
Productive Blogging LIVE is a conference and networking event for bloggers who are serious about taking their blogs to the next level.
Productive Blogging LIVE will be held at Loughborough Farm Community Café in South West London 10am to 4pm on the 5th October 2019.
Tickets to Productive Blogging LIVE include the following...
Tea, coffee and cake on arrival
3 in-depth sessions, including plenty of time for Q&A
Delicious mezze style lunch* cooked by Mandy Mazliah of Sneaky Veg
Mid-afternoon refreshments
Plenty of time for networking/socialising with like-minded bloggers
Goody bag
Sessions will cover the following topics...
How keyword research can get you more of the right traffic
How to create an opt-in offer that attracts the right subscribers
How to make best use of limited blogging time 
*Please mention on your booking form if you have any specific dietary requirements