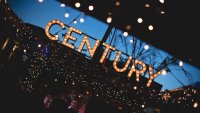 Our last Summer Party, at Soho's impressive Century Members' Club, was a perfect example of what we do best. We took over one of the capital's most desirable venues and filled it with fun-loving  women. We have been counting down the days to return to Century Club and this June (16th), we are doing just that. 
The effortlessly cool venue is a haven in the heart of Soho. Tucked behind an inconspicuous door on Shaftsbury Avenue, it boasts four floors of plush interiors and chic design. Plus its crowning glory: Soho's largest roof terrace. Guess that means we'll be dancing alfresco all night long! Oh and don't worry if the weather's not on our side, there's a glass retractable roof – ready to save us all from looking like we're starring in a t.A.T.u video. 
Alongside this, there's another open air terrace with lush seating and breath-taking views of the city – who needs an Ibiza getaway when you've got all this on your doorstep?
Things kick-off at 4pm in the club's gorgeous fourth floor inside terrace. As our superlative DJs spin a summer soundtrack of disco and house, the Century Club's chefs will knock up a delicious lunch, if you don't fancy the lunch but just want to take in the sunshine the outside terrace will be open for drinks too.

Our DJs – Misty B and newcomer to Mint Krystal Lake will be bringing the best commercial RnB, Hip-Hop & Pop mash-ups to the disco-ball-adorned third floor.   Whilst El Conchitas, Marcella Puppini, Liv Knight & Yvette Lindquist will be turning it up a few notches on the roof with their Summer house & disco vibes.

We're delighted that the network LBTQ Women will be hosting an introduction event in the cocktail lounge from 5pm - 8pm, come discover what this is all about, meet the founders and ambassadors that are on the road to empowering women, grab a cocktail and be part of the fabulous journey.
Lunch tables are always high in demand, have a look at the delicious menu and book before there snapped up, we have vegan and fish options as well as traditional roast with all the trimmings. Don't be left out if you're coming alone, we have a meet up table for lunch, just let us know you have booked and you will be seated on a table for of equally fabulous women. (please note: Tables needs to be booked before 13th June)
💥DELICIOUS LUNCH MENU💥
(pre-booking essential via ticket link by Thursday 13th June)
Roast sirloin of beef with mushrooms, red madeira jus £18
Roast chicken with almond and thyme crust, with sage and cider jus - £18
Sweet potato, kale and mushroom wellington, veg jus, (V) - £16
(all dishes above come with table sharing Yorkshire puddings, roast potatoes, roast cauliflower, carrot and swede hash & leek gratin)
Pan fried Sea Bass, asparagus and crushed potatoes with lemon butter sauce and vegetables from roast beef £18

You know the drill by now, for over a decade  we've been hosting some of the capital's most diverse, welcoming, good vibe'd events for queer women. It's definitely time to come party with us.

Sunday 16th June, 4pm - midnight.
Century Club 61-63 Shaftestbury Avenue, Soho W1D 6LQ

Tickets are £15, but free for you and your lucky guest if you treat yourself to a black card membership for just £90 for 12 months. Check out our heaving summer party schedule – your summer is already sorted! Email nikki@mintevents.london and we will sign you up.