---
TICKET LINK
Ticket Type
Price
Fee
Quantity
---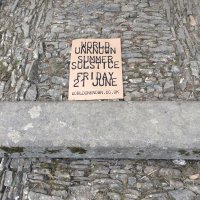 WE'VE NOT HAD A SOLSTICE WU FOR A WHILE, ITS GOOD TO BE BACK

Its official, WU now has a new home. It's the gaff in Tufnell Park we've done the last couple at, known by many as The Dome, home of Dub Club and many a Shaka back in the day

Its a really versatile space with two rooms we can choose from - one bigger and one smaller, both with killer nexo rigs - and an enclosed smoking courtyard that we can open up early and put music in if we so desire. We can even open the whole place up if we want for bigger ones like the birthday and new years eve,

WU has always been at its best when its had a home. first the arch, then the sex pub and now The Dome. It's going to be a lot of fun experimenting with the spaces we have here. Welcome to phase three

This is the last London WU until october and the Solstice ones are always a riot so come join us to worship the big orange ball in the sky that keeps us all alive

Facebook event is here https://www.facebook.com/events/306604536916951/

LINE-UP INFO COMING SOON......