---
Buy tickets
Ticket Type
Price
Fee
Quantity
---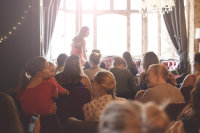 RECLAIM YOUR BRAIN ... BRING YOUR BABY!
Babble Talks are daytime TED-style talks for parents, not about parenting. For parents and carers with babies under 1 year old.

From Magic Lanterns to MGM: The Birth of the Movie Industry
Have you ever wondered how movies first flickered into life? In this talk you will hear about how the first moving images came about via Magic Lanterns; how trying to prove how a horse ran turned still photographs into motion pictures; how those moving pictures would end up being projected onto silver screens and how Hollywood was first born.

Geri Parlby started off her career in journalism back in the 1970s and 80s and then became Head of Press for United International Pictures in the UK, working on many of the major movie releases of the 1980s. Taking time out to start a family, she decided to re-invent herself and studied History of Art at the Courtauld and then went on to do a PhD at Roehampton University. Since then she has been lecturing on a variety of weird and wonderful topics across the UK and internationally.