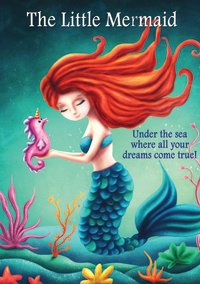 Pendle Productions present a brand new musical adaptation of the classic story of The Little Mermaid.

This is the story of a little mermaid named Ariel. She lives in an underwater kingdom with her widowed father (the Sea King), her grandmother, and her older sisters. When a mermaid turns fifteen, she is permitted to swim to the surface for the first time to glimpse the world above, and when her sisters become old enough, each of them visits the upper world one at a time every year. As each returns, the Little Mermaid listens longingly to their descriptions of the world inhabited by human beings. When the Little Mermaid's turn comes, she rises up to the surface, watches a birthday celebration being held on a ship in honour of a handsome prince, and falls in love with him. A violent storm hits, sinking the ship, and the Little Mermaid saves the Prince from drowning. The unconscious Prince never sees the Little Mermaid or even realizes that it was she who had originally saved his life. Find out if the Little Mermaid wins her prince and if life is really better below the waves. This lovingly created musical will enchant and entertain as you follow Ariel's journey to the world above the waves.
Performances at 12pm & 2.30pm at the Circular Fountain, Miller Park.
Tickets: £8
3 Person Family Ticket: £16
4 person Family Ticket: £22
Season Ticket (Admits 3 to All 6 shows): £80
Children aged 2 and under - Free of Charge
Don't forget your picnic, something to sit on! (Outdoor Performances)

SEASON TICKET: If you purchase a season ticket, you will receive a confirmation from this event only. We will then send your remaining tickets to the postal address on your order. Please contact us if you wish your tickets to be mailed to an alternative address.
Please Note: NO SEATING IS PROVIDED AT THIS EVENT. Chairs are permitted in designated areas. Please allow time to walk to the performance are at the Circular Fountain. Don't forget the performances are outside! Have a great day!