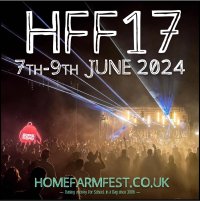 TICKETS ON SALE FROM 8am 1st DECEMBER!

Home Farm Fest is a winning combo of pure Somerset countryside with a charity ethos at its heart. It's big enough to create a great party atmosphere, yet small enough to not be overwhelming - meaning it's perfect for everyone!
HFF blends an eclectic mix of quality music, plenty of non-music related entertainment including a Market Area, Children's Area, Wellness Area, Wild Play, talks & workshops, a climbing wall, fairground, locally sourced food and drink outlets and lots of fun for all ages.
Every penny we raise goes straight back into our charity, School in a Bag, so a massive thank you for purchasing your tickets and joining us for our biggest annual fundraiser!
JUST SO YOU KNOW:
We want to allow people access to a relatively cheap festival with great music and enjoy a weekend (hopefully in the sun…!), with their family and friends. We get a lot of positive feedback that the atmosphere is fantastic, and it's grown into a bit of a hidden gem on the festival circuit, but we are having to change and develop in-line with our growing numbers so we hope you appreciate what is being done is to make the festival run as well as we can make it.
Due to the success of extending our FREE child ticket age up to 12 years old for 2023, this remains the same for 2024, so why not grab your tent and your family and friends and make a weekend of it...

For all Home Farm Fest's terms and conditions, please click here and take the time to read them as lots of questions will be answered :)
TICKET INFORMATION - please make sure you read this BEFORE buying your tickets so you buy the right ones:
1. All sales are final. No refunds, please do not ask as it is not comfortable for any of us. There are NO tickets for individual performances – you are buying a ticket to the festival not to see an individual act.
2. All under 18s must be accompanied by a ticket-holding responsible adult over the age of 21. Each adult can only be responsible for a maximum of FOUR 18-year olds and younger.
3. If you are aged 12-17 or under, you need to purchase a TEEN ticket. ID checks will be in place and any Teen ticket will need proof of an adult who will be there (they will need to have an equivalent ticket too).
4. Anyone with a Child wristband will be refused access to alcohol and will be searched/observed differently as a minor.
5. If you are under 25 years of age, we strongly recommend you bring proof of age to guarantee entry to the festival so you are not disappointed if asked for ID and cannot prove it as we will have to refuse service/entry.
6. Please make sure you have purchased a Weekender Camping ticket if you intend on staying as you will not be able to access the camping area without one (they are the only camping tickets we have).
7. If you are staying in a caravan or camper van, you need to buy Weekender camping tickets for all those in the caravan PLUS a caravan/camper van pass PER vehicle. Please see the guidance on camper/caravan allowances here
8. Please note your bank statement will show as School in Bag Trading Ltd (or an abbreviation of this: SIAB Ltd etc) as this is our Business name - Home Farm Fest is just one event we run under our charity trading subsidiary. Any issues/questions, please contact us.
Upon purchase, an eTicket from Ticket Tailor will be sent to the email address you supply when buying your tickets. Simply save this to your phone so you can access it when you arrive at the festival, or print the email and bring it with you to the event. Either one will be scanned and you will then be given the appropriate wristband/s.
Please encourage your friends and family to get in quick – Home Farm Fest is spectacular value for money, considering it is a 3-day festival with over 150 live acts, plus a whole lot more besides!
* Festival line-up can change at any time
Home Farm Fest is organised and run by School in a Bag Trading Ltd, a wholly owned trading subsidiary of the School in a Bag charity (1186357). All profits made by School in a Bag Trading are reinvested back into the charity's work.
School in a Bag Trading Limited is a company limited by shares (12386360) registered in England and Wales. Registered office address : Home Farm, Main Street, Chilthorne Domer, Somerset BA22 8RD.