---
Get Tickets
Ticket Type
Price
Fee
Quantity
---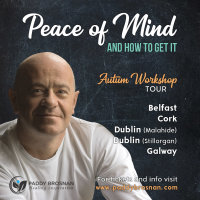 Peace of mind seems to many of us to be an elusive, all but unachievable goal. Our daily lives can sometimes feel as if they are filled with stress, worry, frustration and anxiety. We live busy, 'always on' lives that can leave little room for taking care of ourselves, to foster our peace of mind and look after our own mental wellbeing.
But in the midst of all this busy-ness we can bring calm and ease to our lives. With the right tools, knowledge and a determination to put what's really important first, we can change how we live.
We can learn that there is a better way. A way that brings calm and ease to our very existence.
The good news is that it's easier than you think and whether you know it or not, YOU can achieve peace of mind.

Tickets are non-transferable and non-refundable