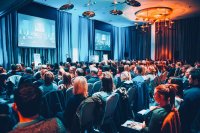 A two and a half hour evening workshop with practical mindset exercises, introductory meditation techniques and ideas/lessons for confidence, consistency and mastery in the key areas of life.
Whether you have clear intentions about your personal development and what you are looking to work on, or you are just looking for some space and guidance on making your next big moves in life, my hope is that you will leave the event with increased clarity, confidence and purpose. 
My best mentors have never given me the answers, they've presented me with the right questions and then challenged me to be honest with myself in my response. 
We live in a busy world that can often resemble that of a hamster wheel, always in motion but not necessarily moving forward, largely due to not having the time or space to look at what is working or what is not. 
My intention for my evening talks is that you will have that space and time for re-connecting with your personal mission statement, and if you don't have one yet, don't worry, that's what the event is all about.
We'll cover simple meditation techniques for stress management and productivity. You'll learn simple tools for confidence, consistency and clarity and we'll talk about fulfilment over achievement. 
Why Is This Important?

"Sometimes we come to periods of life where we feel stuck or unsure of the 'next step'. For many an addiction to busyness and speed leaves them putting their foot on the accelerator without taking into account the direction in which they are going.  Taking space is about putting the foot on the brakes, taking some breaths and consciously choosing the direction in which we want to go next. Sometimes you've got to slow down in order to speed up!"

We'll look at-
Mindset
You'll learn simple mental fitness skills for finding more confidence, clarity and consistency.  
Meditation
We'll go in to simple meditation techniques to help you move from reactive to proactive and stressed to rested and in control!
Mastery
Too many of us spend our lives competing and comparing. We'll be looking at how we can pursue goals that are truly fulfilling to us and how we can enjoy the journey rather than telling ourselves "I'll be happy when...."
Frequently Asked Questions
Q:Who is the event aimed at?
A: This special evening event is designed to be an access point to anybody who is interested in personal development and plotting a course for their life, but isn't sure where to start or what information and practices are involved. 
In short, if you're reading this, then it's probably for you. 

Q: How does the event unfold and what can I expect?
A: As these talks are scheduled for evenings, there will not be a heavy physical requirement on anyone. We want you to turn up with an open mind, and ready to engage with those around you in simple but valuable discussion on a number of topics important to bettering your personal circumstances and what you see for yourself in the future. 
Q: How long is the event scheduled to last?
A: The talk will last for two hours with a 30-minute allotment at the end of the Q+A. I understand some people are nervous about asking pertinent and sometimes sensitive questions in an open group setting. To that end I will try to spend a little time once the talk has wrapped up to speak with individuals who may want to have a quick chat about the evenings topics. 
Please note there are no refunds or transfers on tickets.