---
Buy tickets
Ticket Type
Price
Fee
Quantity
---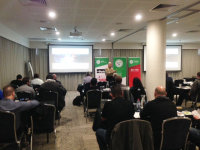 The training programs are targeted at Industry, Regulators and the Emergency Response community. The ASTI programs are widely received in the ammonia industrial refrigeration industry and in recent years are gaining acceptance in the ammonia fertilizer industries.
The aim of this program is to provide all participants with understanding and respect for ammonia which is now the most popular industrial chemical in the world. There continues to be too many injuries from ammonia incidents and ASTI's goal is to provide specific safety training to enable these to be greatly mitigated to a point where ammonia injuries are eliminated. ASTI is all about de-mystifying ammonia and dispelling the myths. The ASTI attitude to accidental ammonia releases is "prevent them all or stop them small"
An important part of the Ammonia Safety Program involves Personal Protective Equipment (PPE). The Ammonia Safety Vest is recommended for Level C protection and should be worn by anyone who is working in or around an ammonia plant.
There is a discount for multiple registrations. 5 registrations – 5% discount, 6 to 9 registrations – 10% discount and 10 or more registrations – 15% discount.

Venue Details:

Quest Mawson Lakes
33-37 Main Street, Mawson Lakes SA 5095 – Tel: 08 7071 0100
Parking available onsite