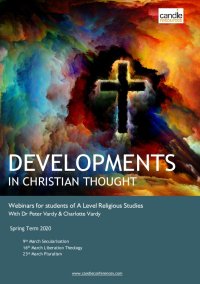 "Candle always produce the best conferences and materials. They are not just invaluable for the students but also act as fantastic CPD for ourselves."  Homewood School, Kent
New for 2020, Candle Resources is offering a series of three live webinars to support students studying Christianity for A Level Religious Studies. Focusing on topics specified by ALL ENGLISH EXAMINATION BOARDS for the full A Level in Religious Studies Christianity option and focusing on developing AO2 essay skills.

The three live webinars are designed as a series and will explore a single theme in evaluating Christianity's responses to major 20th century challenges. Each event includes video-clips of key scholars as well as an online quiz and an essay-planning activity. Each concludes with essay tips and the opportunity to ask questions and receive answers live or by e-mail.

March 2020

9th March Secularisation

16th March Liberation Theology
23rd March Pluralism


WEBINARS RUN LIVE FROM 4PM TO 5.30PM ON THE SPECIFIED DATES, BUT .MP4 RECORDINGS WILL BE MADE AVAILABLE THE FOLLOWING MORNING.
Candle has long experience of running online events, both for teachers and for students. For example, in 2019 each of our Revise A Level RS webinars brought together students from more than 65 schools.  These webinars are live events and run using the Citrix GoToMeeting platform.  Participation requires an internet-connected computer with microphone and speakers (which may be connected to a projector so that a whole class can attend together).
To Book
The series of three webinars costs £120, however many students attend within one school.

Early-Booking Bonus
If you complete a group-booking for a Year 13 "Language" or Year 12 "Revelation" event within the early booking period, you can receive a FREE pass for this series.  Just e-mail info@candleconferences.com with evidence of your completed booking before 1st November (Language) or 1st January (Revelation) to redeem this offer.*

With Candle you get:
Up-to-date scholarly content made engaging and tailored to the real needs of A Level students.
Sessions and resources designed by practicing teachers with a record of engaging students of all abilities.
Easy, secure online bookings with no fees to pay; just print off e-tickets.
A real teacher to speak to on the telephone or e-mail and social media support on twitter @PuzzleVardy & facebook @CandleConfs
e-mail: info@candleconferences.com
Tel: 0208 133 2241
FEEDBACK COMMENTS FROM MAY 2019 "REVISE A LEVEL RS" WEBINARS:
"We love them! Charlotte's manner, expert knowledge, perceptiveness of the philo/ethi/relig exam questions and how she helps students to interpret them, AO2 essay techniques and synoptic links. Extra videos sent out via email. Astounding how much content is gone through… Outstanding quality webinars with powerful benefit to students in knowledge, understanding, evaluation, making synoptic links, stretching wider thinking and perceptive support for exam technique with expert understanding of the expectations of different exam boards within a challenging A Level course." St Bede's School, Surrey
"My students found the webinars engaging and informative. They were pitched just right for revision – with an in depth account of scholars while still piecing together a line of argument. Thank you so much!"  Tonbridge Grammar School
"All of our Year 13 students found the webinars really useful. They are presented in a clear way and the quizzes throughout helped them focus and test their knowledge".  Henry Box School, Oxfordshire
"Excellent quality resources. Super subject knowledge for student (and teacher) revision. A chance to revise outside of class time in a more relaxed way – pizza and treats – while being taken further in understanding." St John's School, Cyprus
"Very thorough and well pitched revision resource." Highdown School, Reading
"Highly recommended – these webinars are excellent value and an extra resource to stretch and challenge our students. Thank you!"  Shrewsbury High School
"Myself and students really enjoyed the webinars. They gave great detail on key exam topics which explored both A01 and A02 which students were then able to support exam responses" Teacher

"Very helpful resources to support revision. Thorough materials." Independent Student

90+% said Candle's webinars are very good or excellent, none less than good.
90+% of teachers said they would be actively promoting the webinars to colleagues, friends and/or students in future.
Look at our twitter feed @PuzzleVardy or search #ReviseALevelRS on Twitter for more feedback and for pictures of students taking part in the webinars.