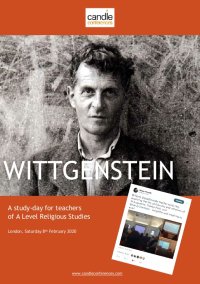 Ludwig Wittgenstein Study-Day
With Dr Peter Vardy & Charlotte Vardy




Central London: Saturday 8th February 2020



Our popular Study Day for teachers returns in February-March 2019 with "Ludwig Wittgenstein" This will be a rare and unmissable CPD opportunity for all those charged with delivering the new specification A Level Religious Studies as well as CIE PreU Theology and Philosophy or IB Philosophy.
Through exploring the work of Ludwig Wittgenstein, Dr Peter Vardy and Charlotte Vardy will aim to improve subject knowledge and understanding relating to the all-important A Level topic of Religious Language.

Our events treat teachers as they wish to be treated – as intelligent adults, as professionals and as passionate about their subject. We run these events on Saturdays so as to minimize costs to schools but don't worry, study days are really enjoyable and, as the saying goes, a change is as good as a rest. In fact, several schools have made our Saturday study days into departmental outings, giving colleagues a chance to spend quality time together as well as sharing learning and ideas.

How To Buy Your Tickets
Places for the Ludwig Wittgenstein Study Day are £150 each

2019 SPECIAL OFFER

Schools with completed bookings for at least 5 students to attend one of our Year 13 or Year 12 student events receive one place at this event completely FREE.  
To claim your free place, simply e-mail info@candleconferences.com after you have completed your qualifying student booking, providing a copy of the relevant student e-tickets plus the name, job-title and contact details of the teacher who would like to attend the study-day.  The deadline for this offer to be redeemed is 9am Monday 6th January 2020.
Feedback from our "St Augustine" study-day in 2018…

"I loved the day. I have come back really inspired and can't wait to pass it on in my classroom." KS, Stratford

"I cannot tell you how much I appreciated the study day on Saturday. I came back to school buzzing with renewed enthusiasm for Augustine and some great ideas to share with my department. I found Charlotte Vardy's tips on essay writing and feedback to be invaluable." AC, Nottingham

"It was excellent: really interesting, enriching and challenging. It was also presented with passion and commitment, as if Augustine really matters (I think he does!)" PS, Yorkshire



Feedback from our "St Thomas Aquinas" study-day in 2017…

"I just wanted to say a huge thank you for the highly interesting, informative and helpful Aquinas day on Saturday. I thought your talks were excellent. I am so grateful to you for giving up your time to support us in the Philosophy 'world'!" KK, Kent



Feedback comments from the "John Stuart Mill" study day in 2016…

"I really enjoyed Saturday, made me want to be a student again! Thank you. Looking forward to 'All You Need is Love' in Oxford." GB, Oxfordshire

"Thank you so much for the materials and conference. My background is in Social Anthropology rather than Philosophy or Ethics so I really appreciate having the support and academic rigor that such days bring. Again, thanks to you and Peter and I hope to see you at conferences either at my school or elsewhere." AM, Bromley

"Thanks for these resources and lovely to see you and Peter again on Saturday. Such days are always very insightful and worth the journey!" WA, Birmingham

"Thank you so much for an informative and interesting day on Saturday. I came with two members of my department and all of us found the day, as well as the resources you have sent, to be extremely useful. We have taught the Pre-U course for over 5 years now and have struggled with J.S.Mill. I feel that this will really help to inform our teaching from now on. Thank you for offering such amazing CPD." LT, Hampshire

"I do appreciate very much the opportunity to get a some INSET on these topics and to chat with colleagues. Excellent job as always!" SC, Newport



Feedback from the "Immanuel Kant" study day in 2015

"I couldn't fault yesterday. The material you were presenting was stimulating, provocative, and pitched at the perfect level. It has been really helpful to re-examine the way in which I have been teaching Kant over the years, and to bring some of those half-conscious, niggling doubts about what the text books were saying into the light. My Head of Department took the news that Kant was a utilitarian and Peter Singer the ultimate Kantian surprisingly well, all things considered, so the impact may be wider than just my own lessons … Many thanks for an excellent day, and for the resources (which will be more than helpful)." JS, Rutland

"The Kant day was very worthwhile. Two highly able practitioners took free reign of the specification and not only dealt with key Kantian ideas but extended my understanding and engagement. Their knowledge is encyclopaedic and their commitment and enthusiasm for the subject without parallel. I came away wanting to read more and to engage my students with the philosophy of this great thinker." TT, Southampton

"I really enjoyed the Kant event on Saturday. I've never felt all that confident teaching Kant, and you're right exam texts do put across a version of Kant that they expect returned in exams (as they do with all topics). I feel more able to deliver Kant now I have a better understanding of his work. A Saturday event is perfect, because it does not incur cover costs, and travel is so much cheaper at the weekend on the trains. Refreshments were very good quality and the location was great too." PCM, Suffolk