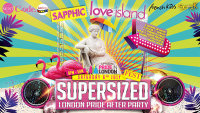 The Greek island of Sapphic love is moving to London for one amazing Pride party. This is officially the capital's biggest femme-focused after-party, bringing 1000 queer women (and their friends) together at Camden's extraordinary FEST.
The huge venue will be transformed into an Island of Sapphic Pride, Love and Joy – in a one-off night curated by some of London's most iconic lesbian club nights. Mint, Code, Smack & French Kiss have spent over a decade filling  London dancefloors with fun-loving women and now they're joining forces. There will be 14 DJs spinning 5 different genres of music so there's something for everybody. 
Though women-centred, this is an inclusive party, welcoming all members of the LGBTIQ+ family to revel in our Sapphic embrace. The night is about good vibes, smiling faces and killer dance-moves. There's no dress code, we want you to pour in from the parade in all your glitter and rainbow-covered glory. This is an island of freedom and fun! 
FEST's large terrace will become a mini festival of pride love. There's a long bar, various drink stations, Street Food if your feeling peckish,  Instagram photo walls, plenty of seating, rainbow flags galore and summer delights aplenty. Soho's renowned lesbian nigh CODE is back and will be hosting this area, so expect a mix of uplifting classic house tracks and feel good tunes. Plus live PA's. 
Round the corner, discover our very own open-air cinema complete with beanbags and deckchairs. The pioneering LesFlicks will be showing JT LeRoy starring dykon Kristen Stewart. They'll be running a vote for the other two les-classics showing that night.
Back in the main dance room, Mint have gathered some of their best DJs along with new talent, playing a mix of RnB, dance anthems & pop divas. There will also be live performances from the world-famous FUEL GIRLS, who'll deliver edgy, sexy, adrenaline-filled dance & fire shows. We have plenty of special effects on the main stage too. 
Meanwhile ultimate party-starters French Kiss and Smack –they're back for one night only – will host FESTS  Birdcage in the west wing of the venue, French Kiss will be playing alongside Lisa German and King K, they'll be bringing their bouncy, dirty house and tech-house and is set to blow the roof off.
Oh, and there's more! We have 7 themed party rooms aka the Stables – FEST is a 200-year-old horse hospital after all. Hop inside any of the rooms and play super-fun games, grab a drink from the salon-style bar or settle into a sofa with that special someone.  This is the perfect place to catch up with pals and recharge those weary post-parade feet. 
We will be partying from 8pm right through to 5am – and there's a Happy Hour (50%) running until 9pm, so better get there sharpish. FEST is literally 4 stops from Soho – just jump on the Northern Line at Tottenham Court Road. Who knows who you'll meet on the 7 minute tube ride alongside 1000 other Sapphic Love Islanders… 
If you're coming straight from Pride in a big glitter-covered group, we can organise a booth for you. It's first come, so email nikki@mintevents.london right away.
This is the Sapphic heart of London Pride, we can't wait to dance with you on our island of love, liberation and Pride!

FULL DJ LINEUP ANNOUNCED SHORTLY (14 DJS will play 5 genres of music styles)
Notes:
Tickets: super-early £8, Early bird £12, Standard £16. On the door £20.
FEST is located in Camden Stables Market, Chalk Farm Road, NW1  
All toilets are gender-neutral, toilets are located at the front and back of the venue
The venue is fully accessible and there's a disabled toilet in the Market 
8-9pm Happy Hour covers all drinks apart from Champagne and Prosecco.
8pm start, get there early to avoid queues 
Last Entry: 2am 
GOVERNMENT PHOTO ID IS ESSENTIAL FOR ENTRY. NO ID NO ENTRY.
FEST Camden Stables Market, London NW1 8AH
Walk up from Camden Town Tube Station, past first market entrance, past the main Camden lock signage bridge and we are here in he huge market entrance on the right. 10 min walk from station.