---
Buy tickets / Join the guestlist
Ticket Type
Price
Fee
Quantity
---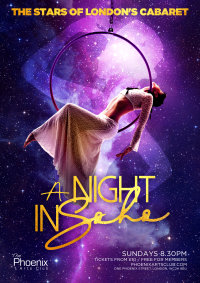 "One of the hottest nights out in Soho" - ***** LondonTheatre1
A Night in Soho is unlike any other, for once the boutique shops of Seven Dials shut their doors, and the theatres take their final curtain call, the busy streets empty, and all is quiet. But the art-deco doors of the legendary Phoenix Arts Club are only just opening, and it's at this time that the infamous characters of Soho, from the Vaudevillians to the stars of the big screen, come out to play. 
You never know who might take to the stage at A Night in Soho, so when all's said and done and you leave the club just in time for the last train home (or later if you so choose), keep what you have witnessed a secret, as it's moments like these that make The Phoenix Arts Club the magical place it is.
The Phoenix Artist Club is London's Theatreland Club Bar & Restaurant. Recent winner of 'Best Community Venue' (FSB Awards 2019), 'Best Entertainment Venue in the UK' (John Smith's Great British Pub Awards 2018), 'King of Clubs' (Club Awards 2017), 'Best Small Business' (Camden Small Business Awards 2017), 'Best Club & Bar in Covent Garden & The Strand' (Time Out 2015+2016) and 'Restaurant of the Year' (FSB Awards 2016).
Please note: A limited number of tickets are made available to the public. The appearance of a certain performer cannot be guaranteed, and the line-up will change each week.