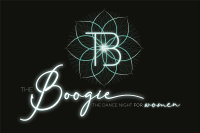 The Boogie – The Dance Night For Women
Bringing Light to the Night
Dance | Community | Magic.
This night is for you to let go of the busyness and to relax and feel uplifted in body, mind, and soul. All in a beautiful, warm, and friendly vibe. Time to relish in freedom, ease, and joy on the dance floor. Get your groove on however the music takes you with a playful, simple, and fun mix of guided and freestyle dancing, to an inspired live DJ mix. Then enjoy deep relaxation with the soothing and restorative vibrations of a sound bath immersion.
Time to come back to yourself

Feel Free. Feel Connected. Feel Radiant.
Here's how it flows...
6.45pm Doors open 
7.15pm Welcome
7.30pm Get in your groove 
A fun and relaxed session to arrive, warm up, refresh and try out some new moves guided by Rachel. No co ordination or dance class experience needed - It's about being inspired by a move and doing it your way!
8pm Boogie On!
 Freestyle dancing with live DJ set
An curated mix of Disco, Pop, Soul, Funk & Dance music to uplift and keep us glowing on the dance floor!
 9.15pm  Relax 
When the dancing is over we get to lie down and enjoy an effortless deep state of relaxation for body & mind through the soothing & restorative vibrations of sound with a sound bath immersion.
10.30pm We float home:)
FAQ 

What do I wear?
Dress to feel good and move easily. Layers are essential so you can be warm whilst sitting or lying down for the sound bath after you've been dancing. No heels please. Flat shoes, pumps or trainers are perfect. 
What is a sound bath?

A sound bath is a deeply relaxing and meditative experience. A combination of gongs, singing bowls, and other percussive instruments are used to create an immersive experience in sound. All you need to do is sit or lie down (chairs will be available for those who'd prefer this) and allow the healing sounds and vibrations wash over you.
What do I need for the sound bath?
A yoga mat or something cushioned to lie or sit on plus a blanket or two. Also warm layers and anything else you'd like in order to make yourself comfortable and cosy after dancing.
Will there be drinks and food available?
There'll be some very new and sophisticated non-alcoholic 'Spirits' made from active botanicals and elixirs that enhance mood and leave you feeling great the next morning. There'll also be a great local cafe selling hot drinks and some of their delicious sweet vegan goodness. Of course, fresh water will be available too.
Can I buy more than 6 tickets together?
Yes! Please email with your requirements and we'll organise this for you.

For any questions please email: connect@theboogieuk.com
Come and join me on Facebook and Instagram where I'll be sharing more about the night and other things to hopefully inspire and elevate:) Links to both can be found at the bottom of the page on the website; www.theboogieuk.com
Look forward to seeing you there!
Rachel x
Founder of The Boogie
Refund Policy: 
 A full refund (minus the booking fee and a 20% administration charge per transaction) will be given up to 30 days prior to the event. After this time no refunds are available. 
If the event is cancelled: The full face value of the ticket will be refunded.
Please email: connect@theboogieuk.com if you wish to obtain a refund. Thank you.