---
Buy Tickets
Ticket Type
Price
Fee
Quantity
---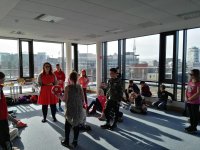 'Dyslexia and Me' Self-Esteem Workshop for Children and Young People
Children with dyslexia often experience anxiety, confusion, and embarrassment when they are diagnosed with dyslexia. These types of feelings often stem from a lack of understanding around what dyslexia is and what it means for the individual child.
This workshop aims to:
Explain dyslexia – what it means and how it affects individuals.
Boost self-esteem by concentrating on the positives of dyslexia and their own specific talents.
Resilience building
Myth busting – many myths exist around dyslexia. We aim to bust these myths in a fun, interactive way that will put their minds at ease.
Peer to peer learning – we will discover what our peers think of dyslexia and how they cope with their own dyslexia.
The workshop aims to be interactive, fun and accessible with the use of art and crafts, assistive tech and lots of participatory games.
The workshop will be run by Amy Smyth, Information and Advocacy Coordinator with the DAI. Amy has a background in law and has previously worked for organisations in the area of widening access to education for young people. Amy is herself Dyslexic and relishes the opportunity to raise awareness of Dyslexia. Amy has a specific interest in the issue of a lack of self-confidence in Dyslexic young people and adults. In addition, Emma Magee, one of our Senior Educational Psychologists will guide the young people through the realities of dyslexia and some useful coping mechanisms.
PLEASE NOTE:
This workshop is for young people only - there is no need for parents to book their own ticket to attend.
The fee is not refundable unless the cancellation is received at least 48 hours before the start date of the workshop.