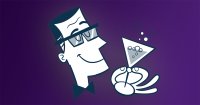 Martinis & Marketing
A Practical Marketing Workshop Disguised as a Cocktail Party
July 18 at @ Wilfs Restaurant

Snag one of only 36 seats available at our intimate little marketing grotto, and you'll:
-learn how to create a brand people love
-know just how much you should be spending on your marketing
-discover the very best audience for your message
-know exactly where you should be advertising
-learn what the "right message" is
-know how to create a campaign that gets better over time
-discover how and when to utilize various advertising mediums in concert
-learn how to avoid the eleven common but deadly mistakes in marketing
-have all the tools necessary to create a powerful marketing strategy and a
consistent, memorable, compelling advertising campaign
3 hours, a martini or two, and a remarkably clear distillation of what works, what doesn't, and why. You'll get practical, applicable instruction from two fellas that have designed strategies for companies of all shapes and sizes. They'll show you how to define and best communicate your brand, so your market doesn't just remember you, but feels good about you.
Brand definition, campaign creation, and communication strategies to drive your message so it never comes out – that's what Johnny Molson & Chris Maddock will teach you at Martinis & Marketing.