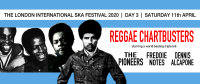 LISF2020 Day 3 ticket entitles you to entry to these gigs & club night;

- Reggae Chartbusters w/ The Pioneers, Freddie Notes, Dennis Alcapone, The Magnetics & more tba
- Do The Dog skazine bash (room 2) w/ The Kubricks, Zen Baseball Bat, Cartoon Violence, Junior Bill, The Downsetters, Skata Tones & easydread
- Valve Sound system special club night with Phil Bush Sounds & Pressure lo-fi
* * * * * * *

The London Intl Ska Festival 2020 presents
Reggae Chartbusters; The Pioneers, Dennis Alcapone & Freddie Notes
plus support tba
Saturday 11th April 2020. Doors 2pm.
Day 3 of the London Int'l Ska Festival 2020 features our Reggae Chartbusters show starring Jamaican legends; Freddie Notes (famed for his global hit Montego Bay), The Pioneers (London Shot Kick De Bucket, Reggae Fever, Papa Was a Rolling Stone, Time's Hard), and toaster extraordinaire - Dennis Alcapone.
Don't miss the chance to see these legends of Jamaican performing together on this world exclusive triple bill. More acts & DJs to be announced.
Free entry for London Intl Ska Festival 2020 wristband holders.
Free entry for all 8 to 17 years old!
Terms and conditions;
No under 8s are allowed due to licensing laws. All under 14s must be accompanied by an adult over 18 at all times. Under 25s require ID to purchase alcohol.

Free entry for 8-17 year old customers applies to all the gigs at the O2 Academy Islington in both rooms (9-12 April) and not the club nights. All under 18s must leave the venue by 11pm and must be accompanied by a ticket holding adult.  Free entry is not available for the Dixie Queen Thames cruise, but 1/2 price tickets for under 18s can be purchased.
No refunds. Please make sure you can do before purchasing your ticket.
_
_