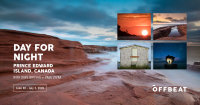 Join world-renowned creative landscape, adventure and astro photographer Paul Zizka and Prince Edward Island's own award-winning astro, landscape, and portrait specialist Dave Brosha for three one-of-a-kind days exploring the artistic vision behind creating dramatic day and night landscape images in one of Canada's most scenic provinces.
Held in an incredibly unique venue - a 125+ year old barn set amongst the scenic rolling hills of rural Prince Edward Island - this photography event will mix classroom learning, night exploration, and day time photography across various locations on the "Red Island", home to some of the most spectacular shoreline in Canada.
Paul and Dave will lead participants through three days that is sure to inspire, and is sure to elevate your creativity.
Itinerary*
Day 1 - JUNE 30
10:00AM to 12:00PM - Group will meet at the barn for Introductions and Presentations
12:00PM to 1:00PM - Lunch Break
1:00PM to 3:00PM - Presentations
3:00PM to 6:00PM - Rest and Dinner Break
6:00PM to 9:00PM - Shooting time: Sunset Photography off-site
10:00PM to 2:00AM - Shooting time: Night and Astro Photography off-site
Day 2 - JULY 1
1:00PM to 4:00PM - Presentations
4:00PM to 6:00PM - Rest and Dinner Break
6:00PM to 9:00PM - Shooting time: Sunset Photography off-site
10:00PM to 2:00AM - Shooting time: Night and Astro Photography off-site
Day 3 - JULY 2
10:00AM to 12:00PM - Group Brunch
12:00PM to 2:00PM - Open Editing Time
2:00PM to 4:00PM - Group Critique and Slideshow
4:00PM to 6:00PM - Shooting time: Sunset Photography off-site
*The itinerary above is subject to change. All registered participants will be sent a final itinerary 2 weeks prior to the event start date.
Price/Payment Schedule:

Cost: CAD $1150 + 15% HST 
Payment options:
1) Full payment or
2) Non-Refundable Deposit: CAD $500 + Final Payment: $650 CAD due January 15, 2020


Note: failure to pay by the payment due date means forfeiting deposit and spot will be freed up and potentially sold to another interested participant (see more in cancellation policy below).

If unforeseen circumstances arise, participants are welcome to transfer/sell their space to another interested participant.
Included:
- Daily instruction/mentoring by Paul Zizka and Dave Brosha

Not Included:
- Accommodations
- Meals
- Park Fees
- Transportation (carpooling is highly encouraged)
- Travel Insurance
Transportation To and Around Prince Edward Island
The price of the workshop does not include transportation. Participants will need to arrange car rentals or carpooling with other workshop participants. After the workshop fills, we will create a private Facebook group to allow participants to connect with each other.
Park Pass
A portion of the workshop will be held in Prince Edward Island National Park. The price of the workshop does not include a park pass. You will need to purchase a park pass when you arrive at the entrance to the park. For more information on Parks Canada passes, see http://www.pc.gc.ca/apps/tarifs-fees/tarif-fee_E.asp?park=517
What to expect

The workshop is suitable for participants of all levels of experience in photography. Most locations will be readily accessible from the road, although we may hike short distances on occasion.
This event focuses on landscape + outdoor + night photography but may possibly include a short portrait component. Talks will be focused primarily on the technical, artistic, and compositional process of creating strong images.
What to Bring
This will be a "rain or shine" event. Weather in July on Prince Edward Island is generally beautiful but there is, of course, the chance of rain storms, wind, bugs, and hot, hot sun. Please come prepared, accordingly, for all weather conditions.
Packing List:
• suitable and comfortable clothing, which you can layer
• warm jacket (for late night photoshoots)
• appropriate footwear (we will be in wet, rocky, and possibly muddy areas)
• a headlamp or flashlight (we will be in pre-dawn darkness for one morning)
• your own camera equipment (preferably DSLR, which allows manual control of shutter speed, aperture and ISO settings; bring the fastest lens you have)
• a sturdy tripod
• a laptop for editing (with editing software, preferably Adobe Lightroom and/or Photoshop)
LEAVE NO TRACE
Both Dave and Paul preach and live the ethics of "leave no trace" photography, which means that the utmost care is given, while hiking and photographing, to leaving zero impact on the natural environment. Participants are expected to approach this tour with the same ethics at all times.
Cancellation and Insurance Policy

CANCELLATION: Spots are non-refundable but are transferable, with the exception of a $250 administration fee. For instance, we will provide a refund, minus the administration fee, if the participant is able to find someone else to take his or her spot and can sell/transfer the spot to a new participant. Please contact us at erin@offbeatphoto.ca to make arrangements.
Although extremely unlikely, OFFBEAT Photography Inc. reserves the right to cancel the tour at any time for a variety of reasons (i.e. if a minimum number of participants is not met or if unforeseen circumstances dramatically impacted cost of the tour or global conditions somehow warranted a cancellation). In the very unlikely event of a cancellation within OFFBEAT's control, all monies/deposits made to OFFBEAT Photography Inc. would be refunded to participants, however, no compensation would be made for participant flight cancellation fees or any other associated travel costs. See Insurance Policy for more details.In the very unlikely event of a cancellation beyond OFFBEAT's control (I.e global situation, act of God, war, medical outbreak, extreme weather), every attempt would be made to rebook the tour within a period of two years. In this situation, no refunds would be given but every effort made to find participants a spot on the rescheduled tour or another upcoming OFFBEAT tour.
INSURANCE: It is not only advised but required that workshop participants have trip cancellation/interruption insurance, as well as emergency medical/illness insurance and rescue coverage (proof required within 4 months of departure).
Weather and other unforeseen factors can cause delays in travel, particularly from some of our more remote locations. It is the participant's responsibility to cover any costs in the case of a travel delay of any length. Please ensure your trip cancellation/interruption insurance accommodates this possibility.
By purchasing a spot you are acknowledging that you accept these conditions.

For any additional questions, please contact us at workshops@offbeatphoto.ca