---
Buy tickets
Ticket Type
Price
Fee
Quantity
---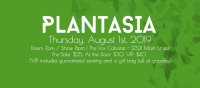 Exploring Gender Through Flora and Fungi
Plantasia will explore personal relationships with gender through the evocative natural matter of plant life. The kingdoms of plants and fungi make up a world with as much diversity, complexity and range of expression as humanity's relationship with gender. The show itself will feature a variety of different types of performance art such as drag, burlesque, live music, comedy, spoken word and circus arts.
This event will also act as a major fundraiser for the Trans Alliance Society, a registered non-profit which supports the BC transgender community through support, education, outreach and advocacy. All proceeds made during the night will go to TAS, so please bring all your extra loonies and toonies for this amazing cause!
Note: A $2.00 booking fee is added to cover ticketing and payment processing fees, allowing 100% of ticket prices to go to this fundraiser!