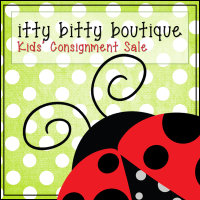 "Early Bird" Admission is for THURSDAY September 19th, 2019 from 12:00pm-8:00pm! Tickets cost $5 each! We are now offering a way for the general public to be able to get into a coveted Pre-Sale at itty bitty! If you would like to be able to grab some of the deals before the public, then this Pre-Sale is for you! Shop kid-free, in a calmer less crowded environment! (No children are allowed during our Thursday presales. Non-mobile infants being worn are acceptable, no strollers.) Anyone 13 and over is allowed with a $5 admission ticket.

Location: The Lane Events Center 796 W. 13th, Eugene OR, in the Auditorium Building
Date: Thursday Sept. 19th, 2019
Time: 12:00pm-8:00pm
Price: $5 per person
What you need to know:
This ticket is valid for Thursday's Early Bird event only! We open the doors at 12:00pm and close at 8:00pm
No children allowed during our THURSDAY Presales (non-mobile infants you wear are acceptable, no strollers)
Visa, MC (with photo ID) or CASH accepted.
We provide the shopping bags; leave large purses at home. But bring bags to take your items home in!
RSVP to this event on Facebook for contests and reminders!
Get additional SHOPPING TIPS here!
So, what else is happening?
Open to the Public (free) Shopping Hours:
Friday, Sept. 20th: 9am - 9pm
Saturday, Sept. 21st: 9am - 6pm
Sunday, Sept. 22nd: 9am - 4pm*
(*Sunday all "Discount:Yes" items are 50% off. Tags marked "Discount:No" are not discounted)
Visit www.ittybittyboutique.org for more details on selling, shopping and saving!