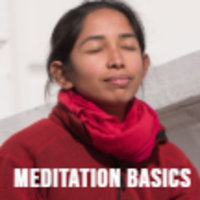 Meditation Basics - Truro Branch Class of KMC Plymouth
Enjoy gently guided, simple meditations that help us leave behind our stress and concerns, and allow our mind to become calm and peaceful. This two week course is perfect for beginners but also an important refresher for people with experience of meditation. Over the two weeks we'll explore the basic technique for simple breathing meditation and the function of meditation and a meditation practice.
The purpose of meditation is to cultivate positive states of mind, conducive to peace and well-being, and overcome negative habits of mind. Happiness is a state of mind, therefore the real source of happiness lies in the mind, not in external situations. If our mind is peaceful we will experience happiness, regardless of our external circumstances, but if it is un-peaceful we will never find happiness; no matter how successful we are in improving our external conditions. The method to make our mind peaceful is through meditation. This is a special opportunity to take a break from our busy activities and hectic pace of life and explore the benefits of modern Buddhist meditation.
Everybody is welcome – no need for any previous experience of meditation.

Times: 19:00-20:30
Dates: Tuesdays, 20-27 August (2 weeks)
Class Titles:
Wk 1 - What is Meditation?
Wk 2 - Meditation: Finding Inner Peace & Happiness

Prices - attend all the classes in a course or drop-in when you can. 
In Advance:
Advanced Booking Course Ticket: £12 (save 40%)

KMC Plymouth Members: Free (Members are required to book a ticket)
On The Door:
Drop-in One Class Ticket: £10

Blue light Card Drop-in One Class Ticket: £8

KMC Plymouth Members: Free (Members are required to book a ticket)
Important Notes:
Please note ​that tickets are non-refundable.
We also refer you to our website for details of our Terms and Conditions and to our Privacy Policy
If you have any problems with your ticket or have any questions about the class, event or course or the centre, please contact us using the link beneath the map below or visit us on our website HERE


Thank you, and we hope you enjoy the classes!
Kadampa Meditation Centre Plymouth