---
Buy tickets
Ticket Type
Price
Fee
Quantity
---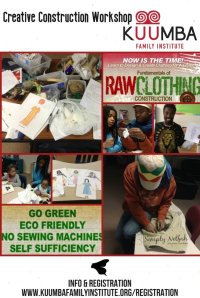 Netfah's Fundamentals of Raw Clothing Construction workshop offers thought provoking, hands-on learning experiences for ages 11+ designed to teach not only the premise behind basic raw clothing construction techniques, but an introduction to the concept of wholistic dress as well, all without the need of a sewing machine! From concept to completion, students will learn the basic knowledge and skills required to create and re-create apparel and accessories for a lifetime from a wholistic, eco-friendly, and uniquely creative perspective. At the end of the workshop students will be equipped with enough knowledge, insight and information to become eco-fashion stewards and self-sufficient producers. They will also have the opportunity to celebrate one another's individual creations during a 'Best Of' peer-based Awards ceremony.
Basic materials provided. Donated textiles requested.
With eco-fashion, sustainability and entrepreneurship part of a growing conversation among many forward-thinking collectives, empowering and encouraging individuals through our FRCC workshop is one of the most creative ways to cultivate the mindset of individual and socio-economic self-sufficiency needed for a lifetime. As such, here are 3 main reasons why students would benefit from taking this course…
1. Students will learn the basic fundamentals of how to construct functional and fashionable attire and accessories through the manipulation and construction of various fabrics and materials using NON-INVASIVE techniques. That's right…NO SEWING MACHINES REQUIRED.
2. Students will learn the basic concept behind wholistic (holistic) dress, its purpose, connection to us respectively and individually, and how to apply it in our personal life.
3. Students will play an active part in saving our planet thru the education and application of recycling, reconstruction and re-use.

Instructor: Netfah Amina Afia Bell