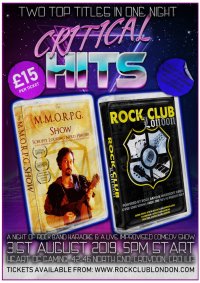 Rock Club London returns to The Heart of Gaming and this time we're bringing some friends!
Not only will there be two sets of Gaming Karaoke (featuring over 2500 songs from across the Rock Band and Guitar Hero franchises), but we're excited to welcome back The MMORPG Show!
Rock Club will open the gig at 5pm, then at 7pm we'll hand over to The MMORPG Show for their unique brand of comedy, action and misadventure with a party of adventurers having their fate decided by an oversized 20 sided die. When this has concluded Rock Club will take to the stage once more and play it loud until the venue closes.
Your ticket will also give you access to the Heart of Gamings collection of arcade machines and consoles. Whether you've got differences to settle on Street Fighter 2, or you're just itching to throw red shells in Mario Kart, there are options at the HoG for you.

See you there!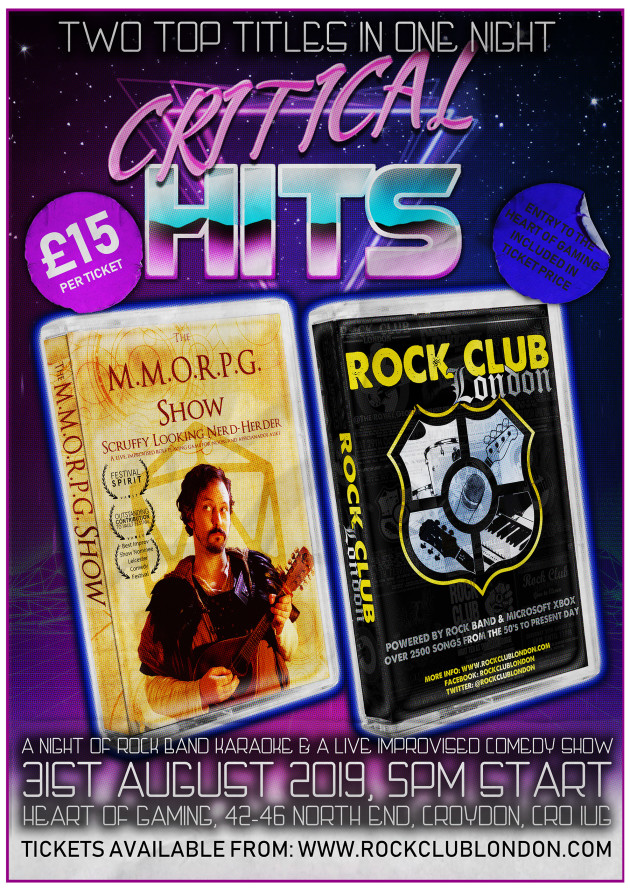 Access Information
Heart of Gaming is on the first floor of the building, accessible by internal lift or 18 steps with a rail. Inside is level ground throughout. There is a disabled unisex toilet on the same first floor, at the opposite end to our stage. It is air conditioned.

The nearest station is East Croydon, which is 5-10 minutes walk away and has ramps to the exit.


Rock Club London
Rock Club London is Karaoke for the Gaming Generation.
Presented using Rock Band 3 & 4 and Microsoft Xbox: with 2000+ songs from the 1950s to the present day, two guitar controllers, an electric drum kit and a custom built stage set so you're not performing to your TV, you're performing to a real audience. Established 2011, and having played pubs, conventions and festivals, we're currently residing at the Heart of Gaming, Croydon.

The MMORPG Show: Scruffy Looking Nerd-Herder
Scruffy looking Nerd-Herder is the 3rd Iteration of the multi award winning MMORPG Show coming from Knightmare Live creator, Paul Flannery.
Three brave volunteers play as characters in a story made entirely from audience participation. All their attempted actions decided on the roll of a massive 20 sided die (D20).
The relaxed atmosphere is designed to make everyone feel welcome and able to throw out suggestions without risk of ridicule. There will be puns and that is entirely acceptable. The results are often bizarre as the audience are asked to abandon pop culture references and the lexicon of fantasy genre.
We won't like, if you've never seen it before, the show is fairely niche. But it's won three awards so objectively it can't be terrible.

The Heart of Gaming
Arcade, console and computer Video Gaming all day at fantastic value!