---
Buy tickets
Ticket Type
Price
Fee
Quantity
---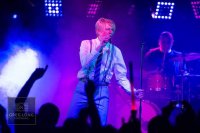 Door and CASH Bar open at 7.30

Fund raising event for the Empire Hall, Graffham, Near Petworth GU28 0QB
An electrifying show of pure, authentic Bowie with live band.

Award winning Bowie Tribute act featuring the greatest hits from every era of Bowie's amazing career.
Star Man, Space Odyssey, China Girl, Let's Dance, Ashes to Ashes, Ziggy Stardust, Were Are we Now, Changes, Golden Years, Young Americans, Fame, Heroes and many more.
In the words of the official David Bowie fan club – ,Amazing'
'Pop Up Bowie had us spellbound' – Lucy Johnston – Daily Express
'For anyone who enjoys a great David Bowie tribute, Paul Longland presents the clinching argument as to exactly why he won the No.1 Bowie award as soon as he walks out on stage and begins to sing.' The Stage