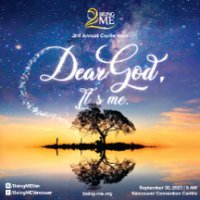 Being ME Canada cordially invites you to attend our Conference in Vancouver:
Dear God, It's Me…
Worship is our heartbeat – it is what keeps us spiritually alive. How can we live a life immersed in the worship of the One? How can we walk on a path where every footstep and every element of our life is worship?
We live in a world where it is easy to forget the One. Competing desires, the needs of our ego, and worldly pursuits only add to our challenges.
Our heart seeks unity and closeness with the One Lord knowing that only when our hearts are connected to Allah, will we find peace. This worship of our Creator is a beautiful love letter we write only to Him – all our actions, our thoughts, and our hopes in this life directed towards our Beloved, our Lord.
Allow this year's conference to inspire you to grasp that pen and begin,
"Dear God, it's me…"
Featuring renowned speakers, exhilarating lectures, interactive workshops, children's conferences, and more!
You do not want to miss the event of the year, hosted at the Vancouver Convention Centre in Downtown Vancouver!
Play n Pray Children's Conference (Ages 4-12)
Welcome to the exciting Being ME Play n Pray Children's Conference! We are thrilled to have your children, aged 4 to 12, join us for a day of fun, learning, and new friendships.
Event Details:
Date: September 30, 2023
Time: 9 am to 9 pm 
Location: Vancouver Convention Centre, East Meeting Room 8 & 15
Program Highlights:
Creative Workshops: Let your child's creativity shine through engaging arts and crafts activities designed just for them.
Fun Games & Play: From lively PE games to board games, your children will have a blast.
Educational Exploration: Our interactive sessions will ignite curiosity and promote learning through hands-on experiences.
Important Information:
Parental Supervision: Please ensure to sign in and out your child for each session. Children will only be admitted and released from/to the registered parent/ guardian on file. We will provide a safe environment with experienced team members.
Safety First: Your child's safety is paramount to us. We have taken necessary precautions to make this program secure and enjoyable.
Limited Spots: To give personalized attention, we have limited spaces available. Secure your child's spot by getting their ticket early.
Please note that the Play n Pray Children's Conference ticket grants access only to the designated program hours. If you require care for your child during other conference activities, kindly arrange appropriate supervision.
We're looking forward to an incredible day of laughter, learning, and making memories together at the Being ME Play n Pray Children's Conference. Rest assured, your children will have a fantastic time exploring and discovering in a caring and nurturing environment.
The Being ME Play n Pray Team


Disclaimers:
1. Child Behaviour: Parents or guardians are responsible for their child's behaviour and safety throughout the event. Children exhibiting disruptive or unsafe behaviour may be removed from the childcare program at the discretion of the Play n Pray Team. Parents or guardians will be contacted and asked to pick up their children should they require to be removed from the program.
2. Team's Responsibility: While the Play n Pray team will take all necessary precautions to ensure the well-being of the children, parents understand that accidents may happen. The event organizers and Play n Pray team will not be held liable for any injuries or incidents that may occur during the childcare program. Parents or guardians assume full responsibility for their child's participation in the program.
3. Children should be picked up by their guardians during break times and the end of the program promptly to ensure volunteers have their breaks.
4. Children must be able to use the washroom independently and not require naps.
5. Purchasing a Play n Pray ticket acknowledges the above disclaimers and the parent/guardian is ultimately fully responsible for the wellbeing of their children during the entirety of the program.
Buy limited tickets now @ AttendBM.com!

Find out more about Being ME at:
www.facebook.com/beingmevancouver