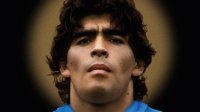 Welcome to Oakwood Cinema - the independent community cinema for Oakwood and Roundhay in Leeds! Oakwood Cinema is a not-for-profit community cinema showing a film each month, with a licensed bar and snacks to make the night an enjoyable social event for all!
Our film for November is Diego Maradona (cert 12A).

THE FILM
Constructed from over 500 hours of never seen before footage, this stunning documentary tells the story of the Argentine footballer Diego Maradona's seven year spell playing for Napoli in the 1980s. Maradona was at the time the best player in the world (and is certainly now in the top five of all time), but he was always a controversial figure - who can forget his 'hand of God' against England in the 1986 World Cup?
This film follows his highs and lows in Naples, but also specifically looks at his relationship with the local Mafia, called the Camorra. You don't have to be a football fan to enjoy the documentary; indeed, the director Asif Kapadia is renowned for his approach to eclectic subjects, and his films about Ayrton Senna and Amy Winehouse are amongst the best documentaries in recent years. His style avoids voice overs - instead the images, dialogue and sounds tell the story. And like many great stories, this is a 'rise and fall', showing the perils of fame and adoration, set in an enclosed and incendiary environment.
Mark Kermode, in the Observer, described Diego Maradona as "...a tale of rags and riches, saints and sinners, crime and football, injury and victory, all played out against the backdrop of the city that comes to embody his divided spirit."
TICKETS 
Tickets are just £5 for everyone.  (We are no longer offering memberships.)
Cinema opens 6.30pm (come and have a drink and a chat). Film starts 7.30pm

Ticket Prices
 £5.00
A booking fee is applied to cover the bank processing fee for purchasing online tickets. If you would like to purchase a paper ticket from a local shop, using good old fashioned cash, please visit Tasty Cafe or Jack Rabbit's Pottery in Oakwood. Shops only stock tickets for the next film to be shown, one film at a time.