---
Buy tickets
Ticket Type
Price
Fee
Quantity
---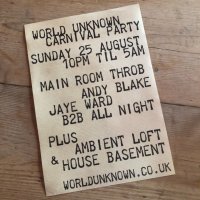 So, we were absolutely definitely 100% no way doing another WU until October....

....BUUUT.....

.....then we got offered a one chance only opportunity to have a party in a fully functioning and LGBTQ-friendly strip joint in East London right by the Central Line tube for super easy access from carnival.

And as we've never done a carnival party in all 10 years of WU we thought why the hell not, you only live once.

The venue is on 4 floors and has a split-level main room with balconies overlooking the dancefloor, poles, private booths, chain mail curtains all over the place and a smoking and chillng terrace on top. I.E. it's exceptionally WU and scores full marks in the fantasy 1980s nightclub department.

To reflect this the main room will be Andy Blake and Jaye Ward B2B all night.

Expect the full old-school Wu at the arches throb and trance demonic disco vibe with loads of rare as shit Razormaids and other Dj only service records, off-kilter post-punk dubbery and transcendental alt-pop Starck Club anthems. Life's only what you make it after all.

House and techno 'tump tump unst unst' duties will be handled by Twinkat Soul and Marbles, very good friends of ours and each other and two of our favourite South London party crews who are taking over the basement for the duration with special guests to be announced soon.

Up top in the loft will be the return of the Ambient Wuumb and kick drum tax will be in full effect so you can drift all the way into outer space and further still. Your ambient caregivers will be announced soon.

FB event is here for most up to date info
https://www.facebook.com/events/495830864545274
Some tickets at £8 and most at £10. And it'll be £15 on the door for all the last minute crew if we have room for them.

Security are super-friendly and drinks are decent and well-priced btw. Always nice to know in these strange days.....