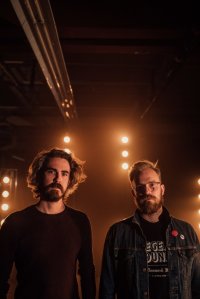 Thirty years. Four bandmates. Two brothers. One album and at last, another.
Let It Lie, the JUNO winning debut release from Canadian roots-rockers the Bros. Landreth, was proof that there's strength in numbers.
It's an album about open highways and broken hearts, anchored by the bluesy wail of electric guitars, the swell of B3 organ, and the harmonized swoon of voices that were born to mesh. At first listen, you might call it Americana. Dig deeper, though, and you'll hear the nuances that separate The Bros. Landreth — whose members didn't grow up in the American south, but rather the isolated prairie city of Winnipeg, Manitoba — from their folksy friends in the Lower 48.
Where does the sound come from? Maybe it's in their blood. After all, long before they made music together, siblings David and Joey Landreth attended their father's bar gigs as babies.

In the fall of 2016 the collective took a hiatus - giving Joey an opportunity to further explore his growing reputation for being a first-rate guitar slinger with the release of a solo album, Whiskey, which he toured extensively through Canada, the US, and the UK.
Now, back in the saddle, the band is as excited as ever to get back on the road. "We're a little older now, we've got hundreds and hundreds of shows, thousands and thousands of miles under our belts... This record has  confidence that we didn't have - couldn't have with the first." Teaming up with longtime creative cohort and producer, Murray Pulver, and working out Winnipeg's own Stereobus Studios, the forthcoming album will be an exciting evolution of the band's sound, honed by thousands of hours on stage and filtered through the lens of the last four years on the road.
"The time off that we took between touring 'Let it Lie' and coming back together to make this next album was really hard on all of us." Dave says. "We had to do it, but it was tough. That said, being away from each other, both on and off the band stand, gave us some really valuable perspective. It let us realize just how important and deeply satisfying it is for us to make music together and that's something that we won't soon forget."