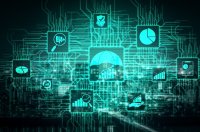 Following the success of the inaugural conference in Denver during February, 2019, Quaynote is delighted to announce the 2nd Annual Enterprise Security Risk Management (ESRM), taking place at Old Pasadena, L.A., on 4th March, 2020.
Tailored towards Security and C-Suite decision-makers, the conference aims to establish best EsRM practice amongst this important target audience and to discuss how gaps in the organizations` security processes can be identified and closed.
Designed as a platform for disseminating information and as a forum for discussion, the 2nd Annual Enterprise Security Risk Management (ESRM) will further the discussion on "How can we make corporate security work better for the whole organization?"
Hosted by Parsons Corporation, who are also Gold Sponsors, at their conference facilities in the company`s Old Pasadena headquarters, the 2nd Annual Enterprise Security Risk Management (ESRM) is staged by Quaynote Communications, specialist producers of international security conferences.
The 2nd Annual Enterprise Security Risk Management follows over a decade of ground-breaking productions by Quaynote Communications, including the Tackling Kidnapping, Travel Risk and the Duty of Care series of conferences staged in the U.K., Miami, Las Vegas, Houston, Washington D.C., and Los Angeles.
You can see the full agenda here 
https://www.quaynote.com/conference/enterprise-security-risk-management-esrm/

The conference will examine the shortfalls of current corporate strategies and ask how EsRM differs, with specific topics to be tackled including:
Developing an ESRM culture from top to bottom
How does ESRM address human / people risk?
Physical Security and ESRM
ESRM and Artificial Intelligence
Repatriation of Mortal Remains
ESRM & Business Travel
Enterprise Health & Business Continuity
With EsRM affecting the broadest spectrum of sectors, from government, corporations and NGOs, to schools and universities, to entertainment and leisure, casinos and hotels, from oil & gas giants to technology companies and multinationals, the 2nd Annual Enterprise Security Risk Management is a must attend event for to Corporate Security Officers (CSOs), Risk Managers, CISOs, HR Directors, responders, solutions providers, lawyers and the entire C-suite.