---
---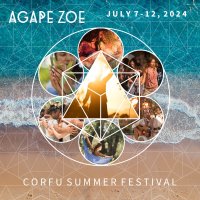 Your heart yearns to be recognized and held in a sacred and blissful community?
Your body longs for a place to breathe, expand, and res(e)t?
Your soul is ready for new insights and meaningful connections?

AGAPE ZOE Corfu Summer Festival
is where you find a safe place for the deepest callings of the heart, body and soul, all on a sacred, highly energized island amidst the healing waters of the Ionian Sea.

For this transformative journey, each year we gather a tribe of visionaries, musicians, dancers, healers and lovers of life to unite for a conscious, transformative 6-day program:
● Inspiring workshops
● Soul-connecting practices
● Energizing body work
● 1:1 healing sessions
● Heart-opening concerts
● Ecstatic dances
● Sacred Greek culture
... and so much more!

With our breath-taking location, surrounded by fairytale-like olive groves and the vast lands of COLIBRI FARM, located directly at the seaside, you have access to a unique soul space for joyful celebration, energizing nourishment and deep rest.

Retreat from the sun into balinese huts or in the protective shade of the wise olive trees, overseeing the ever expanding blue sky and sea. Listen to the chirping crickets while enjoying a raw cacao with new friends in the hammocks. Or take a replenishing dip into the crystal-clear waters of the Ionian Sea at our secluded, quiet beach area – just a two-minute walk away.
Rooted in the serene seaside village of Arillas, located in the north-west of the "mermaid island" of Corfu, we welcome you to be a part of this tribe of celebrating souls!

AGAPE ZOE brings you a festival like you've never experienced before. Join us for a sun-soaked midsummer week, as we deep-dive into ourselves and community through yoga, music, dance, breathwork, meditation and greek culture with renowned local and international artists and healers. 
WHAT ARE YOU WAITING FOR?
Join us in paradise and let's see what magic we can create together!
YAMASTÉ
for more information please visit AGAPEZOE.COM