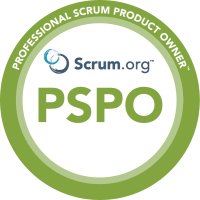 Tickets currently unavailable. Please contact info@redtangerine.org to join the wait list in case tickets become available.
This class takes place over 4 half-days 13.30-17.00 GMT
Being a professional Product Owner encompasses more than writing requirements or managing a Product Backlog. Product Owners need to have a concrete understanding of all product management aspects, including but not limited to product ownership, that drives value from their products.
Professional Scrum Product Owner (PSPO) is a course that focuses on all of these areas to teach students how to maximise the value of products and systems. PSPO is the cutting-edge course for Product Owners, Agile product managers and anyone responsible for a product's success in the market.
In this course, students will develop and solidify their knowledge of being a Product Owner through instruction and team-based exercises. The breadth of the role's responsibilities in delivering a successful product will become more clear from an Agile perspective. Metrics are identified to track the creation of value and the successful delivery of the product to the marketplace.

Overview

Agile product management
Value driven development
Scrum theory and empiricism
The Scrum framework
Product Backlog management
Release planning
Prerequisites

All experience levels are welcome. No previous Scrum training or experience is required, though it is recommended that participants read the Scrum Guide before the course.

For all of our live virtual classes, we use Zoom as our conference tool. Zoom is very secure. It uses end-to-end encryption and delegates can only access the conference via an admin controlled waiting room. Activities are carried out with Mural. No software is required to be pre-installed for these tools, though you may need to check that there are no security policies that block the use of these tools if you are joining us through a corporate network. We ask you to try to ensure a steady internet connection (for example by connecting through cable rather than with WiFi).
Certification and Assessment

All participants completing the Professional Scrum Product Owner course will receive a password to attempt the Professional Scrum Product Owner (PSPO I) assessment. PSPO class participants who attempt the PSPO I assessment within 14 days of receiving their free password and do not score at least 85% will be granted a 2nd attempt at no additional cost.

What else is included?

Course eBook
Membership to the Red Tangerine Slack channel giving access to our alumni community
Testimonials
"The course was extremely interactive and the trainer gave lots of real world examples to help provide context around the material."
- Chris Gibb, Technical Project Owner
"A very interactive 2 days with David. He is knowledgeable, accommodating and engaging, It was a pleasure to attend his course."
- Anon.
"Really impressed by the way the class was given, example discussions and the ability to provide real world examples relative to your discipline, Well Done, I would suggest anyone learning Agile to attend this course as a PO.​​​​​​​"
- Philip Thomas, Lead Engineer
Terms and Conditions

View our full Terms and Conditions here.

Payment options
Payment can be made by credit / debit card or bank transfer. Please select the relevant option when booking.
A note for companies

VAT registered companies outside of the UK should be exempt from paying UK VAT. Contact us at info@redtangerine.org to make arrangements.

About the Trainer

David Spinks

David's professional experience spans roles of; Agile Trainer, Agile Coach, Scrum Master, Kanban Service Delivery Manager, Team Leader and Software Developer in a variety of industries, including finance, eCommerce, social housing and education. He is a Kanban University Accredited Kanban Trainer (AKT) and Kanban Coaching Professional (KCP), and a Scrum.org Professional Scrum Trainer (PST). David is also the co-author of the books Facilitating Professional Scrum Teams, Mastering Collaboration in a Product Team and Adopting Agile Across Borders.

David is a Course Delivery Enabler with Scrum.org. CDEs act as ambassadors for the Scrum.org courses that they support for the Scrum.org Professional Scrum Trainer community. This involves working closely with the community to improve course delivery and supporting Professional Scrum Trainers in gaining deep understanding of the intent and design of the courses and collaborating with trainers and the Scrum.org Courseware Team to identify and refine ideas for improving the delivery of courses.
David believes in servant leadership, and he values environments where empowerment, autonomy and flexibility enable teams to do the best work possible. He is committed to continuous learning and development in himself and others. He is passionate about getting the best out of teams and seeing people reach their full potential.

David is active in the global Agile community, including blogging, and speaking at conferences and meetups around the world.

David enjoys travelling, keeping fit, the outdoors and spending quality time with his guitar.

Price: £995

Early Bird Price: £895 available up to 1 month before the start date.
Prices exclude VAT.