---
Buy tickets
Ticket Type
Price
Fee
Quantity
---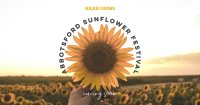 Abbotsford Sunflower Festival by Maan Farms
Put on your Sunday bests, grab your cameras and snap a picture perfect moment at Abbotsford's first ever Sunflower Festival! You'll be able to take pictures at different photo op's perfectly decorated to trend on the explore page and then snip your own golden beauties at our U-Pick field which is grown with only premium varietals. Once you're done basking in the glow of our sea of sunflowers, grab a wine tasting flight to sip on and enjoy. Do it for the gram. If you didn't snap it…did it really happen?"
Every Ticket includes:
Entrance to Abbotsford Sunflower Festival
Day Time Corn Maze
Maan Farms Farm Entrance (Petting Zoo, Play Area, Baby Goats, Zipeline and more..)
Access to Wine Tasting and Wine Activity Area in the Sunflower Field. (Wine only served Friday, Sat and Sundays, however Maan Farm's Wine Tasting Room is open everyday from 9-6pm)
Ticket Types:
Weekend: $14.95 (Discounted $5 compared to Same Day Ticket)
Same Day $ 14.95 online or at the gate Sunflower Festival
Weekday: $11.95 (Discounted $3 compared to Same Day Ticket)
Early Bird Weekday: $9.95 (Discounted $5 compared to Same Day Ticket, Sold out)
Early Bird Weekend: $12.95 (Discounted $7 compared to Same Day Ticket, sold out)
1 Glass of Wine: $7.69  the Sunflower field on Saturdays or Sundays . 
1 Glass of Wine: $7.69 Weekday ticket - at Maan's Tasting room
Good to knows:
Wine in Sunflower Field is only Available on Sat and Sundays noon to 8 pm. BUT, our Wine Tasting room in our Retail Store is open EVERYDAY from 9-6pm
Dog Days are only set for Aug 17th and 18th, this is when you can bring your dog's with you into the festival.
Food will be available daily in our Festival area and our Retail Store. Mama Maan is the best cook!
You must check into our Market (790, Mckenzie Road Abbotsford) before entering the sunflowers.
Dress according to weather and bring your camera!
Parking is free.
Ticket Description and Rules of Abbotsford Sunflower Festival
Tickets are only valid on the date stated on the ticket. Customers who do not come on their purchased ticket date will NOT be permitted to enter on other days. No refunds or exchanges at all.
We reserve the right to refuse entrance to anyone who appears intoxicated, anyone who is willfully disobeying our rules or anyone who is causing harm to Maan Farms Staff, other customers and our property.
Wine Tickets are valid on the date stated on the ticket. Must be 19+ and have two pieces of government issued ID. Customers will receive a 5oz. glass of wine from a selection of our delicious fruit table wines.
Golden Sunrise ticket admit one, please arrive at 5:30 am to experience the sunrise through sunflower field plus other activities through the day.

FAQs
What's the refund policy? - Tickets are non refundable. We are open rain or shine. Tickets are not valid on any other days than what is stated on the ticket, please see "Ticket Type"
Are there minimum age requirements? - There is no minimum age to attend however minors must be accompanied by guardian.
Stroller and Wheelchair access? - We allow guests to bring their strollers and wheelchairs, however there is uneven ground which may be difficult to navigate.
Can we bring pets? - Pets are only allowed on Stated "DOG DAYS" (Aug 17th and 18th)
Maan Farms Abbotsford Sunflower Festival Liability Waiver & Informed Consent
By participation in this program, you (participating party) hereby release Maan Farms Ltd and its agents from any claims, demands, and causes of action as a result of my voluntary participation and enrolment.
You (participating party) acknowledge that Maan Farms Ltd. is not responsible for any lost, stolen, or damaged belongings while visiting the farm for the Abbotsford Sunflower Festival.
You (participating party) fully understand that you may injure yourself as a result of your participation in this event and you hereby release Maan Farms Ltd and its staff from any liability now or in the future for conditions that you may obtain.
These conditions may include, but are not limited to, heart attacks and other cardiovascular injuries, strokes, muscle strains, muscle pulls, muscle tears, broken bones, shin splints, injuries to knees or other joints of the body, injuries to back, injuries to a foot, heat prostration, injuries to the head or neck or any other illness of any kind or soreness that I may incur including death.
YOU (PARTICIPATING PARTY) HEREBY AFFIRM THAT YOU HAVE READ AND FULLY UNDERSTAND THE ABOVE STATEMENTS THAT THIS IS CONSENT FOR MY OWN PARTICIPATION.