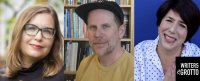 Do you have a personal story or a fictional story that you want to tell? Would you like to be led through the steps of storytelling from beginning to finished story? In the first year-long class to be held at The Writers Grotto, three seasoned writing teachers will lead you from A to Z in to create a short story, chapter of a novel, or creative nonfiction essay.

In the first quarter of Storytelling: A Yearlong Intensive, Jenny Bitner will introduce you to the basics of storytelling. She'll provide inspiration, guide you through the process of selecting a story to tell, and begin the process of writing a story. By the end of this quarter you'll have a firm foundation and inspiration for a rough draft of a story

In the second quarter of Storytelling: A Yearlong Intensive, you'll dive into the nitty-gritty of story writing with Doug Henderson. You'll work on shaping and structuring your story, learning from some of the writing greats. During this quarter you'll receive feedback on your work-in-progress.

In the last quarter of Storytelling: A Yearlong Intensive, you'll work on revising your story. You'll have the opportunity to further workshop and receive feedback on your writing, and leave with ideas on the next steps.
At the conclusion of the program, all students will be invited to an exclusive reading of their work at the Grotto and those who have completed all three quarters of the program will receive a certificate of completion.

Students may sign up for individual quarters if space permits. Students who either register for the entire year or who have attended previous quarters are given priority when registering.

All students will receive two free write-ins per quarter, and those that sign up for multiple quarters will be invited to our one-day writing retreats during the winter and spring breaks.

Books required: The Making of a Story: A Norton Guide to Creative Writing by Alice La Plante.
Quarter One - Inspiration and Diving In with Jenny Bitner*
Dates: Wednesdays, Oct. 18th - Dec. 13th (no class Nov. 22nd)
Whether the story being told is a personal one, a family one or a fictional one, the elements of storytelling are universal. In the first class in the series, we will work on inspiration, finding what you want to write about, developing a writing process, getting into a good space psychologically to write, and the beginning of the writing process.
We will be using the textbook The Making of a Story by Alice LaPlante. In this first class in the series, we will talk about writing as discovery, using concrete details, the shape of a short story and point of view. Students can take the class as a stand-alone or as part of the three-part series. Connections and cohort building between the classes will happen through Grotto based writing retreats between class one and two and two and three. At the Grotto we believe that one of the most important aspects of writing is community. We hope that you meet students in this series that can be your friends and cohorts on your continuing journey as a writer. 
By the end of this quarter you'll have a firm foundation and inspiration for a rough draft of a story.
*Register by Sept. 10th to receive 50% off the normal registration price for Writing Day with Jenny Bitner!
Quarter Two - A Deeper Dive: Style, Structure, and Design with Doug Henderson
Dates: Wednesday, Jan. 10th - Feb. 28th

Over the course of eight weeks, we will dive deeply into the shape and structure of short stories, looking at different forms and styles. We will read from a broad selection of short stories, and break them down to better understand their design, and their authors' intentions. By reading deeply, and taking a close look at how these stories work, we will gain a better understanding of how to shape and design our own stories, and engage our readers. Our final two weeks will be reserved for workshops, so students can share work and receive feedback.

This workshop is ideal for any student working on a story or essay, but who are unsure of how best to form the shape or structure.

Students should enter with a rough draft of a story or essay, and be eager to shape that work into something exciting. Students in this course will receive feedback on their works in progress, so they can enter next quarter's workshop energized and filled with ideas for revision.
Quarter Three - Revise and Refine: You're Almost There! with Audrey Ferber
Dates: Wednesday, April 17th - June 5th 
"Revision is a kind of ripening, intensified by close attention." Jane Hirshfield
In this third section of the yearlong Storytelling Intensive, we will revisit the story, essay or chapter you've been working on. First, we will read aloud to each other, to see where the prose slips. Revision exercises from our text, "The Making of a Story" by Alice LaPlante, and other teaching luminaries, will break down elements of revision and offer practical exercises to address technique. We will write the story to expand and deepen character and motivation. Expect reading and writing homework tailored to address the issues that arise as we revise. And we will talk about the art of patience. Revision demands both the time to let your work speak to you and a belief in your creative process.You will leave the class with another draft of your piece and ideas about how to take it further.
Each participant will be workshopped and receive feedback from the instructor and your peers.
This class is also open to students not part of the Intensive but you must bring a draft of a story, essay or chapter to focus on.

About our instructors
Jenny Bitner's fiction and poetry has been published in Mississippi Review, The Fabulist, The Sun, Fence, Corium, Fourteen Hills, Mid-American Review, and PANK. Pine Press published a chapbook of her poetry entitled Mother. Her story "The Pamphleteer" was published in Best American Nonrequired Reading. Her work was also included in the anthology Writing That Risks. Her nonfiction has appeared in Utne Reader, To-Do List, The San Francisco Bay Guardian, and Men's Health. She earned an M.F.A. in creative writing from the University of Virginia. She is also a certified hypnotherapist. Her novel Here Is A Game We Could Play was published in 2021 from Acre Books. Find out more at jennybitner.com
Doug Henderson is the author of the novel The Cleveland Heights LGBTQ Sci-Fi and Fantasy Role Playing Club, and a winner of the PEN/Dau Short Story Prize for Emerging Writers. His work has appeared in The Iowa Review, Short Édition, Michigan Quarterly Review Mixtape, and elsewhere. Originally from Cleveland, he received his MFA from the University of San Francisco. He lives in the Castro District with his husband and two children.
Audrey Ferber's stories and essays have appeared in the New York Times, LILITH Magazine, Best Travel Writing by Women, New World Writing, Frankly Feminist and elsewhere. She has been teaching in the Bay Area for more than twenty-five years. She is working on a collection of essays about marriage and caretaking and a story cycle set in the near future.