---
---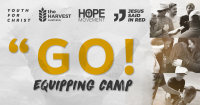 Empowering and releasing young Australian believers to GO and make disciples.
Join with YFC Missionaries and other passionate Christians from around Australia for fellowship, fun and equipping in practical tools to reach the lost and make disciple-making-disciples of Jesus in your community.
"Go therefore and make disciples of all nations, baptizing them in the name of the Father and of the Son and of the Holy Spirit, teaching them to observe all that I have commanded you."
With the help of experienced evangelists and disciple-makers we'll be focusing on four key area: abiding, prayer, community and the great commission – to empower you with everything you need to GO!
WHAT TO EXPECT
Training in simple, practical and reproducible tools for Christian mission.

Strategies for reaching the lost in your community and

discipling

your peers.

Sharing, encouragement and community with other passionate Christians.

Waterfront location with ocean pool and plenty of free time to enjoy the setting.


WHO CAN COME
This event is open to Christians of all ages and denominations around Australia but aimed at young adults. Children and families are welcome. Under 18 year-olds must be accompanied by a parent or guardian.

COST:
Adults: $350
Couples: $630
Children: (under 12) $50

Price includes: Meals, Accommodation, Training & Shuttle to and from Newcastle airport (within set times).
Attendees required to bring own linen / sleeping bag for bed.

GETTING THERE
Tahlee is situated 67km North East of Newcastle.
Drive: 1hr drive from Newcastle, 2.5hr drive from Sydney, 5hr drive from Canberra, 7.5 hr drive from Brisbane.
Fly: Most capital cities (apart from Darwin and Perth) offer direct flights to Newcastle airport where we will shuttle you to and from the venue within set times depending on demand. WA and NT attendees can book to Newcastle via Brisbane or Melbourne.
Train: Train from Sydney to Newcastle (then bus to Newcastle Airport for shuttle) via Central Coast & Newcastle Line https://transportnsw.info/routes/details/intercity-trains/ccn/02CCN

Newcastle Airport Shuttle
We will have available a courtesy shuttle bus between the venue and Newcastle airport as follows:
Tuesday departing airport at : 2pm / 4pm / 6pm (6pm shuttle will arrive after camp has commenced)
Friday departing venue for airport at: 10am (allow 45min travel time)
Shuttle time may be subject to alterations depending on demand and flight times.

Brought to you by Youth for Christ Australia in partnership with The Harvest Australia.