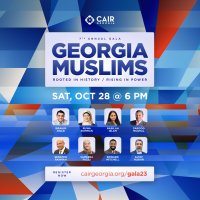 CAIR-Georgia invites you to the 7th Annual Fundraising Gala: "Georgia Muslims:  Rooted in History, Rising in Power".  The event is on Saturday, October 28, 2023 at the Crowne Plaza Atlanta Perimeter at Ravinia at 6:00 p.m. inshallah.
---
Since 2016, CAIR-Georgia has steadfastly fought to protect Muslim rights across the State of Georgia. They have stood boldly against injustice and hate at every turn. Through their tireless efforts in the courtroom, in trainings, and at the capitol, they have secured monumental victories that make Georgia safer and more just for us all.
But CAIR-Georgia needs our support to continue this critical work, so mark your calendars for October 28th. At CAIR-Georgia's 7th Annual gala, Georgia Muslims will come together to honor our roots, celebrate the powerful progress we've made, and raise essential funds to advance CAIR-Georgia's enduring legacy.
Threats against our civil and religious liberties still loom and anti-Muslim hatred still spreads. But if we unite behind CAIR-Georgia, as we have for 7 years, we can overcome the challenges ahead. Our voices are growing stronger each year, and our rising power is unstoppable.
Together, we can and will build a Georgia rooted in justice, enriched by Muslim heritage, and committed to defending civil rights for all. Our future is bright. Our progress is inevitable. Our legacy endures.

---
Your generous sponsorship of our Gala will ensure that CAIR-Georgia meets its goals for 2024 and continues to be a pillar of support for our community. Please consider sponsoring our Gala and choose from the following sponsorship packages

| Sponsorship Level | Price | Benefits |
| --- | --- | --- |
| Diamond Sponsorship | $10,000 | 10 seat-table, booth in reception area, full-page ad in Gala booklet, 1 min video for Gala, name in booklet list of Diamond sponsors, social media spotlight on CAIR-Georgia channels, and logo on CAIR-Georgia website for one year |
| Platinum Sponsorship | $5,000 | 10 seat-table, booth in reception area, full-page ad in Gala booklet, name in booklet list of Platinum sponsors, social media spotlight on CAIR-Georgia channels, and logo on CAIR-Georgia website for one year |
| Gold Sponsorship | $2,500 | 10-seat table, booth in reception area, half-page ad in Gala booklet, name in booklet list of Gold sponsors, social media spotlight on CAIR-Georgia channels, and logo on CAIR-Georgia website for one year |
| Silver Sponsorship | $1,500 | 10-seat table, quarter page advertisement in the Gala booklet, name in booklet list of Silver sponsors, and social media spotlight on CAIR-Georgia channels |
| Bronze Sponsorship | $1,000 | 10-seat table with a host name of your choosing, honorary mention in the Gala booklet, and social media spotlight on CAIR-Georgia channels |
| Local Advocate (for non-profits only) | $1,000 | 10-seat table, booth in reception area, quarter page advertisement in the Gala booklet, and social media spotlight on CAIR-Georgia channels |
| Communtiy Supporter (for Masjids only) | $1,000 | 10-seat table, quarter page advertisement in the Gala booklet and social media spotlight on CAIR-Georgia channels. Booth for additional $500 |