---
---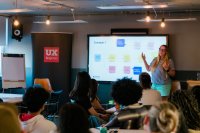 Time team: Documenting decisions and marking milestones – Paul Robert Lloyd
Exercise regularly; eat plenty of vegetables; floss your teeth. Tasks that feel like chores are often the most beneficial in the long run. The same is true of writing documentation.

In this talk, we'll look at how to record and recall design decisions and some tools to help us do that. We'll also learn how to celebrate achievements while considering the role designers can play in cultivating a fun yet inclusive culture within a team.
About Paul
Paul is an interaction designer and web developer with 20 years of experience gleaned from working at fledgling start-ups, boutique design agencies and large in-house design teams.

Today he works with public sector organisations, combining his dedication to detail with a pragmatic approach to delivery to help teams build brilliant digital services for citizens and civil servants.

Away from all that, and when not whiling away his time on various side projects, Paul enjoys long train journeys to destinations with enough interesting architecture to blog about.