---
Buy your tickets
Ticket Type
Price
Fee
Quantity
---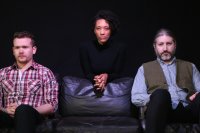 At war with his mind, Bruce (Connor Walsh) tries his best to live a normal life, until it all falls apart. Will he be able to fix it?
Characters:
Bruce, a young man in his twenties, lost in the world, depressed and confused.
Played by: Connor Walsh, Elliot Leaver, Daisy Amachree, Bethany Reed and Nicky Walker.
Sophie, a young actress who stopped believing in herself.
Played by: Aggie Matuszak.
Liam, Sophie's boyfriend, a man's man.
Played by: Dave Chapman.
Rebekka, the controlling sister, always trying to take care of Bruce.
Played by: Louise Davidge.
Ben, Bruce and Rebekka's estranged father. Has been out of touch for 20 years.
Played by: Nathan Hook and Danielle Easley.