---
---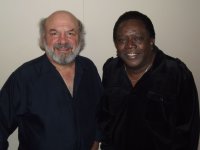 Society Hall, at 400 Ross Avenue in Alamosa, is proud to present the blues, jazz and Motown style music of the Salt & Pepper Band! Tony Nardi (Hammond B-3, piano, vocals) and Eddie Mobley (percussion, vocals) are the core of Salt and Pepper, but for this special show they will be joined by Paul Pearcy on drums and Don Richmond on guitar and fiddle.. Doors open at 6:30 pm with the show beginning at 7:30 pm. 
Their latest CD "No Visible Scars" was recorded half in Tony and Eddie's old home of Hot Springs, Arkansas, and half at Don Richmond's Howlin' Dog Records studio outside of Alamosa. It features top players from both the Arkansas and Colorado/New Mexico areas. Richmond remarks, "This is just a superb record, with great songs and great playing throughout. Tony is an absolute master of the Hammond and Eddie's vocals are as soulful and captivating as they can be, and all the supporting cast just nail it." All but one of the songs on "No Visible Scars" are original, with music composed by Tony and lyrics composed by Tony's wife Karla.
Tony Nardi & Eddie Mobley first met and recorded together as a group while serving in the Air Force and stationed in Thailand in 1969. The soul and R & B duo named themselves Salt & Pepper Band as a nod to their mixed color, a rarity at that time. Although the group broke up after their tour of duty, Tony and Eddie continued to play together whenever possible. Eddie decided to make a permanent move to join musical forces again a few years ago after their original recording, "Man of My Word" made a comeback in the Northern Soul Dance Clubs in Europe and was reissued on Kent Records as a new 45 and on a compilation CD. Due to the recording's quality, rarity and renewed popularity, the original 45 has become a collector's item and fetches thousands for the few remaining copies. In December 2012, Salt & Pepper Band was the subject of an article in the German pop-culture magazine, "Gethappy!?", and in 2013 were also featured in Samantha Goldie's article for NPR Magazine in Melbourne, Australia.