---
Buy tickets
Ticket Type
Price
Fee
Quantity
---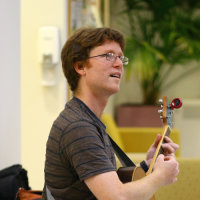 A rare opportunity to learn a straightforward person-centred music practice through first hand experience in a dementia care home facilitated by an expert in the field.  This course is limited to 9 places only. 
Learn how to lead music sessions for elders to find rapport and build relationships through music with people who are at risk of social isolation due to a neurodegenerative condition.  The course is suitable for anyone who supports a person living with dementia including care workers, family members, clinical staff and musicians and is open to people with our without previous musical experience.  
We believe that it is crucial for course participants to see the practice first hand and, for this reason, the course will take place at the Hallamshire Care Home which is a specialist residential dementia care service.  Part of the course will involve interaction with the residents and the opportunity to be part of a music session.
Course content will include:
The nature and importance of rapport
The principles of rapport-based musical interaction
The principles of person-centred dementia care
A 12 song repertoire and free songbook
Facilitation skills
Participation in a music circle with elders resident at the care home
Reflective practice to develop empathy and compassion
The course is delivered by Matthew Laurie, consultant trainer and musician with 20 years experience of making music with people with communication disabilities, particularly those living in acute residential services. Matthew has developed the approach of Rapport-based Musical Communication over the course of his career, the principles of which apply to music sessions across the context of dementia, autism, learning disability and mental health care.  Matthew has presented at conferences in the UK and abroad and regularly delivers INSET and CPD training for UK based organisations.  Please see mattlaurie.com for more details.
If you would like to host a similar course please get in touch by email: info@understandingarts.co.uk
Please note refunds are given for cancellations over 4 weeks in advance of the course date, 50% refund within two weeks of the course date and no refund if the cancellation is made within 7 days of the course date.